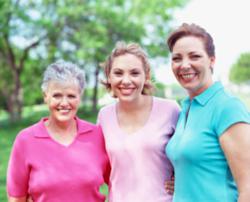 Knoxville, TN (PRWEB) April 17, 2013
On April 13, Brookhaven Retreat's alumnae and staff gathered to celebrate the continued path to successful recovery. The annual alumnae reunion was held at the RT Lodge in Maryville, Tennessee and is an important aspect of the continued care program offered by Brookhaven Retreat.
The annual reunion gives women a chance to reconnect with peers and provides an opportunity to refresh skills and discuss recovery with Brookhaven Retreat's staff.
The friendships created during treatment offer critical support to women overcoming emotional breakage, and continue to play an important role throughout recovery. Because many outpatient treatment groups discourage friendships, these connections remain important and provide women with supportive peers to gather with and discuss recovery.
A variety of classes offered at the reunion gave women a chance to refresh their skills and discuss treatment methods as they apply to life after discharge. After a 7 a.m. breakfast, women participated in mindfulness, trust, healthy habits, letting go, team building, dialectical behavior therapy, communication and self-esteem groups.
The annual retreats are part of a larger continuing care program that supports recovery through active alumnae participation. Weekly conference calls, an interactive website, book club, forums, phone sessions with recovery coaches and annual reunions all keep alumnae connected to Brookhaven Retreat and facilitates healthy living after discharge.
The reunion ended with a presentation by owner and founder Jacqueline Dawes and a group dinner in the evening. Alumnae and staff parted ways with the promise of reuniting again next spring. Brookhaven Retreat values the opportunity to be part of its alumnae's lives after discharge and looks forward to seeing even more of its alumnae next year.
About Brookhaven Retreat
Brookhaven Retreat is a women's treatment center nestled on a naturally beautiful 48-acre site secluded in the foothills of the Great Smoky Mountains. It has helped hundreds of women across the United States overcome depression, trauma, anxiety, substance use and a range of other behavioral health challenges. Brookhaven's Founder, Jacqueline Dawes, has predicated its gender-specific treatment on "healing emotional breakage" for women. In this way, she has established a sanctuary and a place where women can feel safe, secure and cared for by a staff of highly trained professionals.