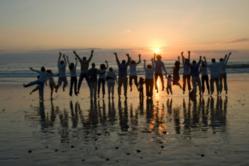 Knoxville, TN (PRWEB) November 08, 2012
On November 2-4, Brookhaven Retreat participated in its alumnae led Staying Well Fellowship Weekend. The reunion took place in the Smoky Mountains, where many alumnae participated in a weekend of celebration, friendship and health.
This reunion was an important part of the aftercare process provided by Brookhaven Retreat. It allowed women to take time out for themselves, renew connections with fellow alumnae and provided a continued source of support for recovery.
Friday night featured a get-together and dinner that offered women a chance to reconnect with friends and staff, while Saturday featured both a reunion dinner and a walk in the surrounding mountains. The five-hour hike took women through new and old growth forest, remnants of 19th century life in east Tennessee, a bubbling waterfall and wildlife unique to the Great Smoky Mountains.
A continuous aftercare plan following residential treatment provides women with continued assistance applying the therapy tools taught in treatment to their daily lives. Weekly conference calls allow alumnae to reconnect and share experiences of growth and development all the while practicing therapy tools taught in residential treatment through the use of weekly topics. A social networking website, follow-up interviews and alumnae reunions complement this aftercare to create a comprehensive system that supports recovery and nurtures a tightly knit community of women who care for and support one another.
Keeping in touch with the friendships and support created during treatment is both beneficial to recovery and a lot of fun. Staying involved supports success in recovery and helps women create joy and meaning in their lives.
Brookhaven Retreat looks forward to continued delivery of excellent aftercare through its next alumnae reunion, scheduled for March 2013.
About Brookhaven Retreat
Brookhaven Retreat is a women's treatment center nestled on a naturally beautiful 48-acre site secluded in the foothills of the Great Smoky Mountains. It has helped hundreds of women across the United States overcome depression, trauma, anxiety, substance use and a range of other behavioral health challenges. Brookhaven's Founder, Jacqueline Dawes, has predicated its gender-specific treatment on "healing emotional breakage" for women. In this way, she has established a sanctuary and a place where women can feel safe, secure and cared for by a staff of highly trained professionals.