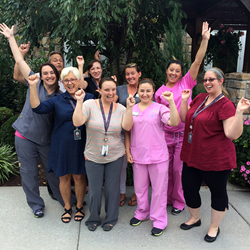 Knoxville, TN (PRWEB) July 19, 2016
Brookhaven Retreat®, LLC, a unique residential treatment facility exclusively for women with mental health and/or substance abuse issues, will welcome an Alumnae Visitor to share her personal story on July 19th.
On July 19th at 2:00pm an Alumnae Visitor will share her personal story with current clients and staff at Brookhaven Retreat. During this time, she will share her journey of recovery to lifelong wellbeing. The inspiring story will offer a source of relatable advice, inspiration, and hope. She will also answer questions such as difficulties in transitioning home after treatment, challenges that have arisen, and the importance of keeping a solid aftercare plan in place.
Brookhaven Retreat believes in the philosophy that "getting well is hard, staying well is harder." As part of The Lily Program®, a 90-day treatment for women offered exclusively at Brookhaven Retreat, clients are offered a lifelong aftercare community and support through an online interactive website, weekly conference calls led by a primary therapist, and a yearly alumnae reunion.
During final phase, particularly the last week of a client's stay at Brookhaven Retreat, the primary therapist, doctor, and alumnae coordinator work closely with the client to ensure that proper follow up care is scheduled and in place to ensure a journey of lifelong wellness. They do not feel that the completion of one's stay at Brookhaven Retreat is the completion of treatment. Their door is always open, and they want their alumnae to always feel that they are a continued source of support for them. Doing well while in the safety of a residential treatment center is expected, but the real test starts when the person returns home and begins to apply the skills that they have learned in their natural environment and with everyday stressors. By having a comprehensive aftercare plan in place, clients can continue their journey of wellbeing.
About Brookhaven Retreat
Brookhaven Retreat is a women's treatment center nestled on a naturally beautiful 48-acre site secluded in the foothills of the Great Smoky Mountains. It has helped hundreds of women across the United States overcome depression, trauma, anxiety, substance use and a range of other behavioral health challenges. Brookhaven's Founder, Jacqueline Dawes, has predicated its gender-specific treatment on "healing emotional breakage" for women. In this way, she has established a sanctuary and a place where women can feel safe, secure and cared for by a staff of highly trained professionals.