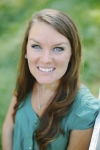 Knoxville, TN (PRWEB) September 18, 2012
Brookhaven Retreat's dietitian, Ashley Coulter, RD, LDN incorporates Dialectical Behavior Therapy into treatment to help women with disordered eating. By incorporating mindfulness into treatment, clients at Brookhaven Retreat are able to develop healthy organized eating habits. Ashley considers disordered eating to be almost an eating disorder, but not quite, "It is certain behaviors that are not considered to be normal such as, skipping meals, thinking that one can't have dessert because they didn't run the day before or having a bunch of food rules. Sometimes there are obsessions with healthy foods to the point where they have extreme anxiety if it's not completely organic."
Brookhaven Retreat does not treat eating disorders, but often times there are those clients that do exhibit signs of disordered eating. "My biggest priority is quality of life. If I sense any of their behaviors are adding more stress or anxiety instead of flowing with life then I aim to modify them," said Ashley. Due to the clients' skills training in DBT, Ashley strives to teach the clients to be mindful so they will develop more organized eating habits.
The quote "One cannot think well, love well, sleep well, if one has not dined well," by Virginia Woolf is Ashley's life motto. Ashley encourages the women to apply the DBT skill of being mindful that they learn during their treatment process to their eating habits. The goal is to have the clients remove the rules they give themselves. The reason clients are being taught to practice mindful eating is to be more aware of their eating habits with how and what is eaten, this is how DBT skills are incorporated into their daily eating routines. "I'm teaching the clients to feed the body what it needs based on internal hunger cues instead of calorie counting or fad diets," said Ashley.
Ashley has redefined the dietitian role at Brookhaven Retreat. Her success at incorporating mindfulness into meal planning has transformed the role of the dietitian, by motivating the women in treatment to continue their skills into their eating habits. Through continued practice, the clients with disordered eating are slowly taught how to have organized eating habits.
About Brookhaven Retreat
Brookhaven Retreat is a women's treatment center nestled on a naturally beautiful 48-acre site secluded in the foothills of the Great Smoky Mountains. It has helped hundreds of women across the United States overcome depression, trauma, anxiety, substance use and a range of other behavioral health challenges. Brookhaven's Founder, Jacqueline Dawes, has predicated its gender-specific treatment on "healing emotional breakage" for women. In this way, she has established a sanctuary and a place where women can feel safe, secure and cared for by a staff of highly trained professionals.