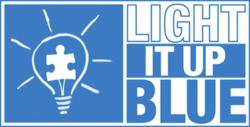 Knoxville, TN (PRWEB) April 02, 2013
To support the Light It Up Blue initiative started by Autism Speaks, iconic buildings around the world will be lit in blue, and supporters across the global community will don blue clothing. Brookhaven Retreat participates in the event by inviting all staff to wear blue on April 2.
The Light It Up Blue initiative seeks to raise awareness about autism, a developmental disorder that affects communication and behavior. Brookhaven Retreat has seen the difficulties faced by women with comorbid disorders, disorders that occur alongside a primary diagnosis, and is no stranger to the stigma associated with mental health and medical conditions. It supports awareness and delivery of appropriate care to those who need it.
The CDC estimates that about one percent of the population suffers from an autism spectrum disorder. According to the Child Early Intervention Medical Center, more children will be diagnosed with autism spectrum disorder than will be with AIDS, diabetes and cancer combined, making it the fastest growing developmental disability in the world.
Several mental health problems are known to frequently co-occur with autism spectrum disorders. A review, "Psychiatric problems in individuals with autism, their parents and siblings," found that anxiety disorders co-occur with autism as often as 84 percent of the time, and depression has a comorbidity rate as high as 58 percent.
Many women suffer from an autism spectrum disorder also live with anxiety and mood disorders. Because of the stigma associated with mental illness or because autism complicates diagnosis, they may go untreated when therapy could help alleviate mental health issues and family distress.
Management of comorbid disorders among women with autism spectrum disorders requires a careful assessment of factors affecting mental health, the Journal of Psychiatry and Neuroscience reports. It is quite possible to treat comorbidities such as anxiety and depression with medication, therapy or both.
Brookhaven Retreat treats mental health and substance abuse issues and understands the impact that treatment can have on the physical and emotional lives of women. In support of Light It Up Blue, staff members have been invited to wear blue on April 2, and Brookhaven Retreat stands in support of women suffering from autism spectrum disorders and the impact this disorder has on their emotional lives.
About Brookhaven Retreat
Brookhaven Retreat is a women's treatment center nestled on a naturally beautiful 48-acre site secluded in the foothills of the Great Smoky Mountains. It has helped hundreds of women across the United States overcome depression, trauma, anxiety, substance use and a range of other behavioral health challenges. Brookhaven's Founder, Jacqueline Dawes, has predicated its gender-specific treatment on "healing emotional breakage" for women. In this way, she has established a sanctuary and a place where women can feel safe, secure and cared for by a staff of highly trained professionals.