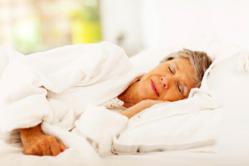 Knoxville, TN (PRWEB) May 01, 2013
May is Better Sleep Month, an awareness month started by the Better Sleep Council to increase awareness of the value of a good night's sleep and the importance of sleep environment. In May, Brookhaven Retreat teaches the women in its Poncho Program the effects of work-related stress on sleep and mental health.
Chronic sleep problems affect 10 to 18 percent of the general U.S. population, according to a Harvard Health publication. The same publication reports that as many as 80 percent of psychiatric patient experience chronic sleep issues.
Most women with anxiety disorders, depression and bipolar disorder experience trouble sleeping. Poor sleep quality affects mental and physical health, and women suffering from mental illnesses must be careful to get adequate sleep in order to support mental wellness. A University of California study conducted in 1998 found that sleep disturbances are a risk factor for triggering depression, anxiety disorders and substance abuse.
Brookhaven Retreat encourages healthy sleep habits among the women in its residential treatment program through a variety of groups and therapies. These classes help women create conducive sleep environments, begin effective pre-sleep rituals and establish nutrition and exercise habits that encourage sleep.
In May, Brookhaven Retreat examines the effects of work-related stress on sleep and mental health. A Swedish study found that a high level of work-related stress is the top indicator of sleep issues. A woman's work situation is strongly linked with her sleep habits and affects her mental health by creating anxiety and disturbing sleep.
Conditions such as inflexible hours, stressful situations, mandatory travel and inadequate vacation can threaten the mental health recovery of working women. When work-related sleep-loss becomes an issue, change may be necessary.
Brookhaven Retreat's Poncho Program helps women realign their lives to be supportive of continued mental health. Sometimes this may include examining potential career changes in order to improve stress levels and mental health. By taking emotional needs into account, women learn to create a life in which all aspects are supportive and nurturing of mental wellness; this includes creating effective sleep habits and avoiding the daily stressors that negatively affect mental health.
About Brookhaven Retreat
Brookhaven Retreat is a women's treatment center nestled on a naturally beautiful 48-acre site secluded in the foothills of the Great Smoky Mountains. It has helped hundreds of women across the United States overcome depression, trauma, anxiety, substance use and a range of other behavioral health challenges. Brookhaven's Founder, Jacqueline Dawes, has predicated its gender-specific treatment on "healing emotional breakage" for women. In this way, she has established a sanctuary and a place where women can feel safe, secure and cared for by a staff of highly trained professionals.