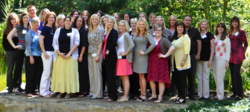 Knoxville, TN (PRWEB) September 04, 2012
Brookhaven Retreat's staff met August 22, 2012, at the Ruby Tuesday Lodge in Maryville, TN for their first day of Dialectical Behavior Therapy Training with Behavioral Tech, LLC. RT Lodge provided a rustic atmosphere along with excellent service and food that made training that much better during the three days there.
The Behavioral Tech, LLC trainers conducting the training were Suzanne Witterholt, M.D., and Gwen Abney-Cunningham, LMSW.
Dr. Suzanne Witterholt has worked for the Minnesota Department of Human Services since 1994. For over six years, she directed a DBT inpatient unit at the Anoka Metro Regional Treatment Center. Since February 2006, she has worked with Marsha Linehan, Ph.D., ABPP, to develop credentialing for clinicians and programs using the evidenced-based, fidelity standards for DBT. In recognition of her work, she has been named a Distinguished Fellow of the American Psychiatric Association.
Gwen Abney-Cunningham, LMSW, is the DBT Services Supervisor at InterAct of Michigan, Inc. She has 15 years of professional experience and is a member of one of the first teams in the U.S. to apply DBT within an ACT program. Ms. Abney-Cunningham is intensively trained in DBT and an experienced workshop leader at state and national conferences. Ms. Abney-Cunningham's experience in DBT includes individual and skills training for adults, adolescents, and families. In addition, she has assisted in the development and implementation of DBT on ACT teams and in outpatient settings.
For the first day of training, the trainers provided an overview of DBT. This overview helped Brookhaven Retreat staff develop an understanding of the therapy necessary to learn how to implement the structural elements of DBT. The final part of the day was dedicated to reviewing DBT problem-solving strategies. These strategies are intended to help therapists identify behaviors to target and understand the behavior in such a way that effective solutions can be implemented.
For information about DBT training opportunities with Behavioral Tech, visit: http://www.behavioraltech.org.
About Brookhaven Retreat
Brookhaven Retreat is a women's treatment center nestled on a naturally beautiful 48-acre site secluded in the foothills of the Great Smoky Mountains. It has helped hundreds of women across the United States overcome depression, trauma, anxiety, substance use and a range of other behavioral health challenges. Brookhaven's Founder, Jacqueline Dawes, has predicated its gender-specific treatment on "healing emotional breakage" for women. In this way, she has established a sanctuary and a place where women can feel safe, secure and cared for by a staff of highly trained professionals.