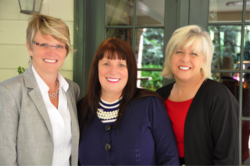 Knoxville, TN (PRWEB) September 06, 2012
The third day of Dialectical Behavior Therapy training with Behavioral Tech, LLC was very educational. Dr. Suzanne Witterholt, M.D., and Ms. Gwen Abney-Cunningham, LMSW, began the day by discussing the techniques used when assigning homework to clients, how to review homework, didactics and role-playing. The instructors enthusiastically participated with Jacqueline, owner and founder of Brookhaven Retreat, therapists, and other staff members to show a variety of ways to practice DBT. Role play activities allowed the staff of Brookhaven Retreat to watch the trainers model DBT strategies and receive corrective feedback.
In order to demonstrate how to effectively approach problems in running skills training classes, Dr. Witterholt and Ms. Gwen Abney-Cunningham assumed the role of skills group leaders while staff members played clients in the group. The trainers demonstrated how to continue teaching DBT skills in groups despite problem behaviors. Brookhaven Retreat therapists and group leaders were able to get first-hand experience in practicing effective strategies for handling behaviors. The exercise also demonstrated the important role of the co-leader in skills group. While the leader teaches skills, the co-leader is able to mindfully monitor what is happening in group and offer feedback for the group leader or attend to individuals engaging in therapy-interfering behavior if needed.
Dr. Anthony DuBose, Psy.D., joined the BTech trainers and Brookhaven staff for the second part of the day via video conference from Seattle. He is the Director of Training, Dissemination, & Implementation for Behavioral Tech, LLC, and is a Founding Member and President of the Evidence Based Treatment Centers of Seattle, PLLC. The conference focused on a strategic plan for implementation of DBT at Brookhaven Retreat.
When asked about her thoughts of Brookhaven Retreat, Dr. Witterholt said, "I was very moved by the whole experience with your team. What an amazing thing you have going!" Brookhaven Retreat is thankful for the time spent in this initial training in DBT and is excited to begin applying these strategies to their practice. The opportunity to enhance skills, learn new ones, and practice team-building with colleagues made for a wonderful training.
For information about DBT training opportunities with Behavioral Tech, LLC, visit http://www.behavioraltech.org.
About Brookhaven Retreat
Brookhaven Retreat is a women's treatment center nestled on a naturally beautiful 48-acre site secluded in the foothills of the Great Smoky Mountains. It has helped hundreds of women across the United States overcome depression, trauma, anxiety, substance use and a range of other behavioral health challenges. Brookhaven's Founder, Jacqueline Dawes, has predicated its gender-specific treatment on "healing emotional breakage" for women. In this way, she has established a sanctuary and a place where women can feel safe, secure and cared for by a staff of highly trained professionals.