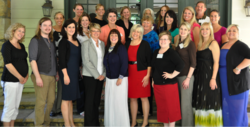 Knoxville, TN (PRWEB) September 05, 2012
Behavioral Tech, LLC, founded by Dr. Marsha Linehan trains mental health care providers and treatment teams who work with complex and severely disordered populations to use compassionate, scientifically valid treatments and to implement and evaluate these treatments in their practice setting. Randomized control trials have indicated that DBT is more effective than treatment-as-usual in treatment of persons with complex mental health problems and co-morbid diagnoses of substance abuse (Linehan, Armstrong, Suarez, Allmon & Heard, 1991; Linehan, Schmidt, Dimeff, Craft, Kanter & Comtois, 1999). Due to this research, Jacqueline Dawes, founder and owner of Brookhaven Retreat, has provided her staff the opportunity to learn from trainers at Behavioral Tech, the only company exclusively authorized to utilize and disseminate Dr. Linehan's materials for training in Dialectical Behavior Therapy.
Dr. Witterholt explained that DBT is a principle-based treatment that includes specific strategies for changing behavior, validating clients, and balancing acceptance of persons where they are while pushing for change. The second day of training focused on DBT validation, the structure of DBT skills training, and the dialectic of acceptance-oriented skills and change-oriented skills. DBT balances change-based technology (behavior therapy) with acceptance-based principles (validation).
The advantage of bringing Behavioral Tech trainers onsite is the ability to customize training for Brookhaven Retreat's specific needs. The trainers' teaching method included demonstrations and role plays to enhance the didactic process. This provided participants the opportunity to watch the trainers model DBT strategies and receive corrective feedback.
DBT teaches a person to be mindful and actively assess behavior in order to develop a clear understanding of what causes and maintains problem behaviors. During her training, Dr. Witterholt said, "The more aware you are of your behavior the more you can prevent yourself from acting upon the impulse." When someone is partaking in an action that is causing problems, mindful awareness of the behavior will help in the decline of the habit.
For information about DBT training opportunities with Behavioral Tech, LLC, visit: http://www.behavioraltech.org.
About Brookhaven Retreat
Brookhaven Retreat is a women's treatment center nestled on a naturally beautiful 48-acre site secluded in the foothills of the Great Smoky Mountains. It has helped hundreds of women across the United States overcome depression, trauma, anxiety, substance use and a range of other behavioral health challenges. Brookhaven's Founder, Jacqueline Dawes, has predicated its gender-specific treatment on "healing emotional breakage" for women. In this way, she has established a sanctuary and a place where women can feel safe, secure and cared for by a staff of highly trained professionals.