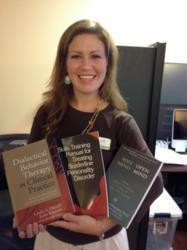 Knoxville, TN (PRWEB) July 10, 2012
Brookhaven Retreat kicked off their Dialectical Behavior Therapy study with a potluck luncheon. Behavioral Tech LLC has asked the staff at Brookhaven Retreat to complete a 7-week DBT Skills Self-Study plan in preparation for upcoming training. The kick-off party was a great success with all Brookhaven Retreat staff joining in on the delicious food.
Behavioral Tech, LLC, will be at Brookhaven Retreat, LLC, on August 22-24 to train the staff in Dialectical Behavior Therapy. The training is very important, as it will allow the Brookhaven Retreat staff to improve their teaching of DBT skills to their clients.
Marsha M. Linehan, Ph.D., ABPP, founded Behavioral Tech, which trains mental health care providers and treatment teams who work with complex and severely disordered populations to use compassionate and scientifically valid treatments and to implement and evaluate these treatments in their practice setting.
For more information about Behavioral Tech LLC, visit: http://www.behavioraltech.org
About Brookhaven Retreat
Brookhaven Retreat is a women's treatment center nestled on a naturally beautiful 48-acre site secluded in the foothills of the Great Smoky Mountains. It has helped hundreds of women across the United States overcome depression, trauma, anxiety, substance use and a range of other behavioral health challenges. Brookhaven's Founder, Jacqueline Dawes, has predicated its gender-specific treatment on "healing emotional breakage" for women. In this way, she has established a sanctuary and a place where women can feel safe, secure and cared for by a staff of highly trained professionals.