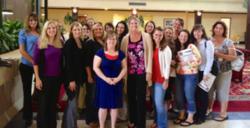 Knoxville, TN (PRWEB) July 27, 2012
Brookhaven Retreat staff was given the opportunity to attend a 2-day seminar hosted by CMI Education for their continued education in the Dialectical Behavior Therapy. Connie Callahan, Ph.D. LPCC, LMFT, speaker, will be leading the 2-day conference over Dialectical Behavior Therapy and Advanced Dialectical Behavior Therapy. She is a licensed professional clinical counselor and a licensed marriage and family therapist in Lexington, Kentucky. She is skilled in DBT and has been providing professional training since the mid-1990s.
Brookhaven Retreat staff in attendance will meet at the Marriott hotel in downtown Knoxville. Day 1 of the seminar will teach participants the basic DBT skills, and Dr. Callahan will explain different scenarios where these skills have been used properly to effectively help an individual. In day 2 of the seminar, participants will be taught how to put DBT to practice in a medical setting.
For information about continuing education seminars or learning tools visit: http://www.pesi.com
About Brookhaven Retreat
Brookhaven Retreat is a women's treatment center nestled on a naturally beautiful 48-acre site secluded in the foothills of the Great Smoky Mountains. It has helped hundreds of women across the United States overcome depression, trauma, anxiety, substance use and a range of other behavioral health challenges. Brookhaven's Founder, Jacqueline Dawes, has predicated its gender-specific treatment on "healing emotional breakage" for women. In this way, she has established a sanctuary and a place where women can feel safe, secure and cared for by a staff of highly trained professionals.