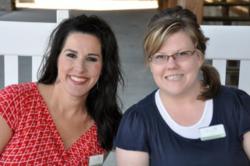 Knoxville, TN (PRWEB) August 21, 2012
Brookhaven Retreat's staff has been working hard for the past 7 weeks on working together to complete a study guide in preparation for Dialectical Behavioral Therapy (DBT) training. Behavioral Tech, LLC, founded by Marsha Linehan, Ph.D., ABPP, will be conducting the DBT training, which will be held on August 22-24 at the RT Lodge in Maryville, Tenn. The purpose of this training is to advance the knowledge of the Brookhaven staff about the use of DBT within the mental health care environment. The skills that will be enhanced during the training with Dr. Linehan's trainers will allow for the Brookhaven Retreat staff to effectively use compassionate, scientifically valid treatments and to implement and evaluate these treatments in their practice setting.
Ashley Accord, Weekend Program Manager, currently teaches DBT to the women who come to Brookhaven Retreat. "The true DBT model is not used at Brookhaven because this is a 90 day program and the DBT model is set up to be a year long group therapy. Therefore, we have to adapt DBT to fit Brookhaven Retreat so that is most beneficial to our clients as well as adheres to The Lily Program®. Brookhaven Retreat is DBT informed because it is partial implementation."
Brookhaven Retreat staff members have shared their experience with the 7-week DBT pre-study. Karen Hodge, Clinical Director at Brookhaven Retreat said, " The pre-study has helped to prepare us for the more intensive DBT training next week. We were able to have a basic overview of what DBT looks like in a residential setting. I'm very excited for next week!" Ashley Accord also said, "I'm really excited to be taught more about DBT from the professionals. The pre-study has given me a general overview of what they are going to be talking about next week. I was able to follow the study guide and read all the material, which was extremely helpful."
For more information about the training offered at Behavioral Tech, LLC, click here.
About Brookhaven Retreat
Brookhaven Retreat is a women's treatment center nestled on a naturally beautiful 48-acre site secluded in the foothills of the Great Smoky Mountains. It has helped hundreds of women across the United States overcome depression, trauma, anxiety, substance use and a range of other behavioral health challenges. Brookhaven's Founder, Jacqueline Dawes, has predicated its gender-specific treatment on "healing emotional breakage" for women. In this way, she has established a sanctuary and a place where women can feel safe, secure and cared for by a staff of highly trained professionals.