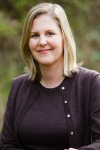 Knoxville, TN (PRWEB) June 20, 2013
Brookhaven Retreat's medical director Dr. Julia Wood gave birth to her newest child, Hannah Freedman James, on May 12, 2013. Brookhaven Retreat celebrated her newest addition on June 18 with a luncheon in her honor.
All staff was invited to attend a barbeque lunch at 12:30 p.m., where they eagerly anticipated Dr. Wood's arrival. Dr. Wood introduced all staff present to her newest addition and everyone in attendance was quickly won over by her tiny daughter.
Women have unique roles as mothers. The role of wife and mother frequently puts women in the position of caring for an entire family and often, unfortunately, neglecting the self. A woman's social roles, hormones and unique life stages open her to increased risk of anxiety, depression and other emotional issues.
Brookhaven Retreat was created with women's unique mental health issues in mind. Its residential treatment program was created to address a woman's individual emotional states and bring women's lives back to a place of balance and emotional wellness.
Before departing, Dr. Wood visited the rest of Brookhaven Retreat's staff to introduce baby Hannah. She is eager to return to work, she said, and misses her role in women's recovery. Dr. Ana Maria Sarasti is managing the medical team during her absence.
Dr. Wood will return to Brookhaven Retreat in August. Brookhaven Retreat is eager to welcome her back and is excited for her to enjoy her newest addition in the meantime.
About Brookhaven Retreat
Brookhaven Retreat is a women's treatment center nestled on a naturally beautiful 48-acre site secluded in the foothills of the Great Smoky Mountains. It has helped hundreds of women across the United States overcome depression, trauma, anxiety, substance use and a range of other behavioral health challenges. Brookhaven's Founder, Jacqueline Dawes, has predicated its gender-specific treatment on "healing emotional breakage" for women. In this way, she has established a sanctuary and a place where women can feel safe, secure and cared for by a staff of highly trained professionals.