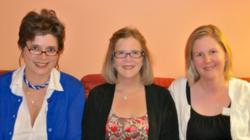 Knoxville, TN (PRWEB) August 01, 2012
The goal for Dr. Payne's visit is to educate Brookhaven Retreat clients and to demonstrate what an intake interview should look like for a new client.
Dr. Payne will first begin by conducting an education session with the clients. She plans to talk in general about mood disorders and to educate the clients about how a diagnosis is determined, and then speak specifically about some of the stuff that the clients can do to help manage their mood disorders.
Dr. Payne has spent some time with Jacqueline Dawes, founder and owner of Brookhaven Retreat, about various things including keeping a mood calendar. The reason for the clients to keep a mood calendar is that when someone has a mood disorder it becomes important that they start to track their moods over time for a number of reasons, including the fact they really can't predict what kind of medication is going to work for someone. So what happens is medication trials are done and over time the client will forget how much medication they were taking, for how long, and why it didn't work. By keeping track of the medication trials, it is helpful for ten years later they are able to go back and say this medication didn't work at this dosage for this long. According to Dr. Payne is it also really important for clients to keep track of their moods to gain insight into their mood disorder, as well as, being able to detect patterns.
The next part of Dr. Payne's time at Brookhaven Retreat will be spent interviewing a client. Since Dr. Payne began consulting with Brookhaven Retreat, she has urged for the admission interview about the psychosocial history to be completed by the therapist and the psychiatrist at the same time. Dr. Payne has expressed that this way of conducting interviews proves to be more time efficient as well as allowing for the therapist and psychiatrist to review the case together and talk about what the diagnosis is and why and then come up with a treatment plan.
About Brookhaven Retreat
Brookhaven Retreat is a women's treatment center nestled on a naturally beautiful 48-acre site secluded in the foothills of the Great Smoky Mountains. It has helped hundreds of women across the United States overcome depression, trauma, anxiety, substance use and a range of other behavioral health challenges. Brookhaven's Founder, Jacqueline Dawes, has predicated its gender-specific treatment on "healing emotional breakage" for women. In this way, she has established a sanctuary and a place where women can feel safe, secure and cared for by a staff of highly trained professionals.