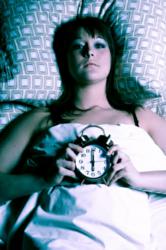 Knoxville, TN (PRWEB) November 06, 2012
When first implemented during World War I as a strategy to conserve coal, Daylight Saving Time gave us an extra hour of sunshine in the summertime. The end of Daylight Saving Time this Sunday coincided with the beginning of the truly cold days of fall and the official descent into the darkness of winter. In many cases, it also disrupts regular sleep patterns.
The earlier nights and brighter mornings have an impact on sleeping patterns, and their effects can take several weeks to regulate. Because of this, the end of Daylight Saving Time is a perfect opportunity to assess sleep habits.
This assessment is especially important for women with mental health issues because of the connection between sleep and mental health. Trouble sleeping has been linked with low mood, low energy, poor concentration, low productivity and relationship difficulties. In addition, problems sleeping are a symptom of many mood and anxiety disorders, and have also been found to aggravate symptoms of these disorders.
Here are four tips Brookhaven Retreat shares to improve sleep hygiene and help regulate sleep cycles.

Maintain a schedule: Stick to a set schedule. Go to bed and wake up at the same time. Now that the days and nights start earlier, create a new routine only if you have to and then stick to it. Otherwise, don't let the darkness interfere with your schedule and stick to your normal routine.
Turn off electronics: Phones and gadgets produce light that can interfere with production of melatonin, further disrupting sleep.
Avoid intake of stimulants: Avoid consuming stimulant containing foods and beverages such as coffee, tea, chocolate and sodas before bed.
Check your worries at the door: Leave your worries behind before getting into bed so that you fall asleep faster. That way if you wake up during the night, they are less likely to keep you up. Assign a worry period if you must, then check them at the door before your pre-sleep ritual.
Now is the perfect time to assess and improve sleep habits. When women sleep well, they benefit from better concentration, elevated mood, higher energy and increased productivity. Proper sleep helps control hunger and stress and improves general health.
Women who sleep well are better able to tackle life's challenges and get more out of mental health treatment. Brookhaven Retreat's unique residential program stresses the importance of maintaining a regular sleep schedule in order to manage mental health issues and live lives of health and happiness.
About Brookhaven Retreat
Brookhaven Retreat is a women's treatment center nestled on a naturally beautiful 48-acre site secluded in the foothills of the Great Smoky Mountains. It has helped hundreds of women across the United States overcome depression, trauma, anxiety, substance use and a range of other behavioral health challenges. Brookhaven's Founder, Jacqueline Dawes, has predicated its gender-specific treatment on "healing emotional breakage" for women. In this way, she has established a sanctuary and a place where women can feel safe, secure and cared for by a staff of highly trained professionals.