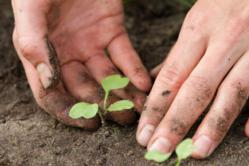 Knoxville, TN (PRWEB) April 18, 2013
Earth Day, celebrated annually on April 22, began in 1970 as a movement to protect the environment. The Earth Day initiative supports environmental protection and recognizes the importance of preserving nature for our wellbeing and that of the planet. In April, Brookhaven Retreat recognizes the impact the natural world can have on mental health and substance abuse recovery.
Proximity to nature is linked to improved physical health. A study published in the American Journal of Preventative Medicine has shown that where trees have disappeared, populations suffer from higher rates of heart and respiratory diseases.
Mental health can also be affected by the presence or absence of nature. Time outdoors has been linked with decreased levels of the stress hormone, cortisol. Lower levels of this stress hormone reduce the risk of anxiety and stress-related illnesses. Routinely spending time outdoors has also been found to increase feelings of energy and wellbeing, and can significantly improve the mood of patients with major depressive disorder.
The closer humans live to nature, the better our mental health is likely to be. A Dutch study found that people living within .6 miles of a park experienced significantly less anxiety and depression. Conversely, those living in urban environments experienced a greater chance of suffering from health conditions, particularly anxiety and depression.
Brookhaven Retreat believes that a connection with the outdoors plays an important role in women's wellbeing, and that time spent in nature helps speed recovery from mental health and substance abuse issues. Brookhaven Retreat encourages the women in its residential treatment facility to walk its nature trails as a way of self-soothing and increasing both physical and mental wellness.
Nature encourages improved mental health, and on April 22, Brookhaven Retreat commits itself to continued care of its green spaces. Through its efforts, women may continue to benefit from a calming natural environment. Brookhaven Retreat hopes that upon discharge, women will continue spending time in nature as one way to help maintain lasting emotional wellness.
About Brookhaven Retreat
Brookhaven Retreat is a women's treatment center nestled on a naturally beautiful 48-acre site secluded in the foothills of the Great Smoky Mountains. It has helped hundreds of women across the United States overcome depression, trauma, anxiety, substance use and a range of other behavioral health challenges. Brookhaven's Founder, Jacqueline Dawes, has predicated its gender-specific treatment on "healing emotional breakage" for women. In this way, she has established a sanctuary and a place where women can feel safe, secure and cared for by a staff of highly trained professionals.