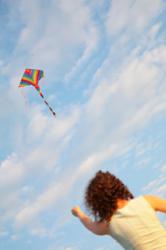 Knoxville, TN (PRWEB) June 18, 2013
Fly a Kite Day on June 15 honors Benjamin Franklin's kite flying experiment and his discovery that lightning was electrical in nature. On June 14, Brookhaven Retreat invited all clients and staff to celebrate Fly a Kite Day. It provided kites to all who wanted to experience the mental health benefits of kite flying.
Successfully flying a kite requires focused attention to the present moment. Mindfulness has been proven to be a powerful tool for improving mental health. A Harvard Medical School study found that mindfulness alters areas in the brain associated with memory, emotion regulation and perspective, which can help women become happier and more positive. Mindfulness also reduces anxiety and depression while increasing self-compassion, which is crucial to the healing and recovery process.
Kite flyers benefit from time outdoors. Time outside has been shown to reduce levels of stress, anxiety and depression while improving mental health. According to a recent British study, as little as five minutes outside can boost mental health. Brookhaven Retreat finds that time in nature improves mood, promotes feelings of appreciation and reduces stress.
Kite flying also promotes socialization, and contact with others reduces feelings of isolation. Above all, watching a kite soar across the sky is a beautiful sight that uplifts the spirit. It is a relaxing, joyful activity that boosts optimism and strengthens mental wellness.
Jacqueline Dawes, owner and founder of Brookhaven Retreat, flew kites therapeutically every day during her recovery process. Time mindfully flying kites on the beach helped her find wellness, she says.
Brookhaven Retreat addresses the unique mental health needs of women with emotional breakage and substance abuse issues. Finding engaging activities is part of the recovery process and helps each woman create a safety plan for long-term wellness. Brookhaven Retreat is excited to enable clients and staff to enjoy the mental health benefits of kite flying.
About Brookhaven Retreat
Brookhaven Retreat is a women's treatment center nestled on a naturally beautiful 48-acre site secluded in the foothills of the Great Smoky Mountains. It has helped hundreds of women across the United States overcome depression, trauma, anxiety, substance use and a range of other behavioral health challenges. Brookhaven's Founder, Jacqueline Dawes, has predicated its gender-specific treatment on "healing emotional breakage" for women. In this way, she has established a sanctuary and a place where women can feel safe, secure and cared for by a staff of highly trained professionals.