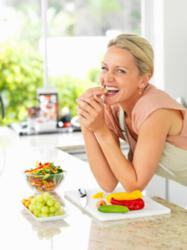 Knoxville, TN (PRWEB) January 15, 2013
January 20th marks the beginning of the 20th annual Healthy Weight Week, a week dedicated to cultivating healthy living habits, self-acceptance and healthy weight. Because nutrition and body issues tie in closely with mental health problems, Brookhaven Retreat will be using Healthy Weight Week to draw attention to the impact mental health disorders have on nutrition and vice versa.
The National Association of Mental Illness reports that poor nutrition can increase mental health problems and change brain functioning, and that because of the link between diet, mood and energy, proper nutrition is especially important to those living with mental illness. Problems occur when women suffering from mental health problems allow their illness to interfere with proper nutrition, further compromising their mental health.
According to the National Center on Health, Physical Activity and Disability, fluctuations in blood sugar levels caused by diet can create mood swings, further aggravating mental illness. The relationship between mood and food is thus of critical importance to women seeking to recover from mental health issues.
Where mental illness has impacted weight loss goals, it is equally important for women not to allow body image to interfere with mental health. When women focus too critically on appearance rather than self-worth and personal fulfillment, they interfere with recovery from mental health issues. A series of studies by the Journal of Applied Communication Research reports that low body satisfaction predicts increased levels of depression. Because of this, it is important for women to receive nutritional guidance about weight-loss goals through a balanced eating program that takes mental health into account.
During Healthy Weight Week, Brookhaven Retreat will focus on teaching women the ways in which mental illness can endanger healthy eating, and how nutritional intake can cause fluctuations in hormones and mood that can help or hinder recovery. With appropriate nutritional counseling, women can heal their relationship with food and use nutrition as a powerful tool in supporting recovery from mental illness.
About Brookhaven Retreat
Brookhaven Retreat is a women's treatment center nestled on a naturally beautiful 48-acre site secluded in the foothills of the Great Smoky Mountains. It has helped hundreds of women across the United States overcome depression, trauma, anxiety, substance use and a range of other behavioral health challenges. Brookhaven's Founder, Jacqueline Dawes, has predicated its gender-specific treatment on "healing emotional breakage" for women. In this way, she has established a sanctuary and a place where women can feel safe, secure and cared for by a staff of highly trained professionals.