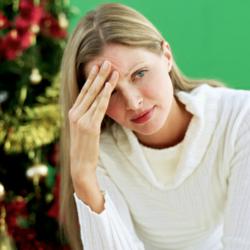 Knoxville, TN (PRWEB) November 13, 2012
November is a festive month, when people are busy decorating for the holidays, gathering gifts for loved ones and preparing delicious meals. The malls are becoming crowded and frequent social gatherings keep us busy. Despite this, those recovering from addiction can experience intense anxiety and face new obstacles during this season of celebration.
Women with drug, alcohol, shopping or other addictions can be vulnerable during this time, because it can be a very busy, stress-inducing time of year. Brookhaven Retreat reminds women recovering from addiction of the hazards of the holidays and how to deal with them effectively without compromising recovery.
It is of foremost importance that women recovering from addiction avoid triggers. This can include a family member who triggers negativity, places that create temptation or friends who are not supportive of healthy living goals. In this lively time of partying and celebration, it is important for women to remember that it is perfectly okay to decline an invitation if it involves an environment with drugs, alcohol or other situations that make them uncomfortable or may trigger them. Some women may need to create a special plan for holiday shopping in order to avoid unnecessary spending.
Women should surround themselves with a community of support during this time. This support can come from family, friends, a trusted therapist or fellow alumnae of their residential treatment facility. Women are encouraged to discuss issues regarding the holidays with these groups in order to ensure continued support and wellness.
Brookhaven Retreat encourages women to practice mindfulness about their surroundings in order to avoid triggering situations or unnecessary anxiety and stress. If women begin to feel anxious about the holidays, they are encouraged to take time out, speak with support groups and practice self-care.
Continued health and wellness should be a top priority in order to get the most enjoyment out of this wonderful time of year and ensure successful recovery.
About Brookhaven Retreat
Brookhaven Retreat is a women's treatment center nestled on a naturally beautiful 48-acre site secluded in the foothills of the Great Smoky Mountains. It has helped hundreds of women across the United States overcome depression, trauma, anxiety, substance use and a range of other behavioral health challenges. Brookhaven's Founder, Jacqueline Dawes, has predicated its gender-specific treatment on "healing emotional breakage" for women. In this way, she has established a sanctuary and a place where women can feel safe, secure and cared for by a staff of highly trained professionals.