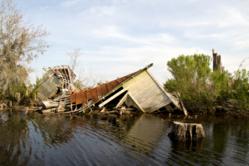 Knoxville, TN (PRWEB) November 07, 2012
Natural disasters can be traumatic, life-changing events. The Associated Press reported that Hurricane Sandy resulted in the deaths of over one hundred people and hurt many more. Forecasting firm Eqecat estimates that Sandy caused over $50 billion in damages. The storm destroyed countless homes and businesses, interrupting the lives of many. Fires, looting and flooding followed, further complicating the cleanup process.
Not all of Sandy's aftereffects were terrible; families, friends and communities banded together to help see each other through. People shared food, heat, light and comfort. It was a true coming together of different souls to help each other out of human kindness.
Despite all this, Sandy's devastation was traumatic for many. Those hardest hit and those who had loved ones in danger may feel the effects of Post Traumatic Stress Disorder for a while to come.
PTSD, a type of anxiety disorder, typically follows a traumatic event and includes symptoms of depression, anxiety, avoidance, isolation, flashbacks, irritability, poor sleep and hypervigilance that last more than a month. Events that trigger PTSD are not limited to assault, war , death or emotional abuse; natural disasters such as floods, fires and hurricanes can also trigger PTSD.
Hurricane Sandy upset many lives, affected the loved ones of countless people and collapsed properties, livelihoods and jobs. It is difficult to tell how large Sandy's emotional impact will be, but it is certain that thousands of women will encounter mental health issues as a result.
Women suffering from PTSD must confront their memories and feelings of helplessness to rebuild trust and develop positive coping behaviors.
A facility that provides specific trauma therapy is ideal to help women through the healing process. Brookhaven Retreat, a private mental health retreat for women, is experienced in dealing with PTSD and uses a variety of therapies alongside a team of expert medical and clinical staff to help women heal. Women immersed in residential treatment are removed from the stressors of everyday life so that healing may occur undistracted.
Through various therapeutic modalities, medication management and time, women can take control of their lives so that traumatic memories no longer control them and are then restored to lives of health and happiness.
About Brookhaven Retreat
Brookhaven Retreat is a women's treatment center nestled on a naturally beautiful 48-acre site secluded in the foothills of the Great Smoky Mountains. It has helped hundreds of women across the United States overcome depression, trauma, anxiety, substance use and a range of other behavioral health challenges. Brookhaven's Founder, Jacqueline Dawes, has predicated its gender-specific treatment on "healing emotional breakage" for women. In this way, she has established a sanctuary and a place where women can feel safe, secure and cared for by a staff of highly trained professionals.