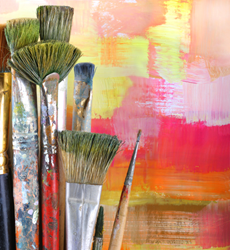 Knoxville, TN (PRWEB) December 03, 2015
Brookhaven Retreat® LLC, a unique residential treatment facility exclusively for women with emotional and mental health challenges, and/or substance abuse issues recently hosted a therapeutic outing to the Knoxville Museum of Art and A.C. Moore on Saturday, Nov. 21.
Clients were treated to one of several current exhibitions at the museum, which was designed by renowned American architect Edward Larrabee Barnes, and opened its current 53,200 square-foot facility in March 1990. Since its inception, the museum's collection and programming have evolved their focus on the rich culture of the Southern Appalachians to "celebrate the art and artists of East Tennessee."
One of several current exhibitions, "Cycle of Life: Within the Power of Dreams and the Wonder of Infinity," is one of the largest figurative glass-and-steel assemblages in the world by Richard Jolley. Jolley is internationally recognized as one of today's most accomplished and inventive glass sculptors.
As part of The Lily Program®, a 90-day program for women offered exclusively at Brookhaven Retreat, weekly outings are an inherent aspect of exposure therapy. Clients embark on diverse therapeutic trips as an opportunity for education, recreation and intellectual stimulation outside the Seymour Tennessee-based facility.
According to Brookhaven Retreat's founder Jacqueline Dawes, visual art represents a powerful resource for mental and physical well-being.
She says, "It's important for clients to step outside their routine and enjoy a change of scenery. Our weekly outings offer the potential for inspiration, intellectual growth and ultimately, contentment. When you add the possibility of being moved by a piece of art work, there is enormous potential for healing.
"Part of the healing process is achieved through learning mindfulness," adds Dawes. "Mindfulness is the art of living in the moment and being actively aware of what's going on around you. In this state, it becomes possible to observe your thoughts and feelings from a comfortable distance without judgment. The act of judgment feeds depression, anxiety and other issues that keep one stuck in a state of hopelessness. Therefore, mindfulness is essential to mental and emotional well-being."
Clients also visited A.C. Moore to purchase supplies for art therapy projects designed to encourage self-expression, which also inspires healing.
About Brookhaven Retreat
Brookhaven Retreat is a women's treatment center nestled on a naturally beautiful 48-acre site secluded in the foothills of the Great Smoky Mountains. It has helped hundreds of women across the United States overcome depression, trauma, anxiety, substance use and a range of other behavioral health challenges. Brookhaven's Founder, Jacqueline Dawes, has predicated its gender-specific treatment on "healing emotional breakage" for women. In this way, she has established a sanctuary and a place where women can feel safe, secure and cared for by a staff of highly trained professionals.