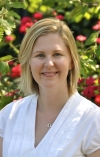 Knoxville, TN (PRWEB) July 18, 2012
Brookhaven Retreat is pleased to announce Dr. Julia Wood as Medical Director. Dr. Julia Wood graduated magna cum laude from Wellesley College and attended medical school at Vanderbilt University. She completed her residency at Massachusetts General Hospital (MGH) and McLean Hospital where she served as chief resident. During her training she was a part of The Center for Women's Mental Health at Massachusetts General Hospital, providing evaluation and treatment of psychiatric disorders associated with female reproductive function including premenstrual dysphoric disorder, medication management during pregnancy and the postpartum period and mood changes associated with menopause.
Following residency she served as an attending psychiatrist in the Dissociative Disorders and Trauma Program at McLean Hospital and as an instructor in Psychiatry at Harvard Medical School. She continues to serve as an editor for the Harvard Review of Psychiatry. Dr. Wood is passionate about women's mental health and has a particular interest in working with trauma survivors and women with borderline personality disorder. She moved to Tennessee in July 2012 to be closer to family and to join the staff at Brookhaven Retreat.
As the new Medical Director, Dr. Wood will provide clinical leadership necessary to achieve Brookhaven Retreat's mission and objectives. Also, she will be assisting with the overall Medical Quality management of the facility, providing leadership and guidance for physicians, allied staff and facility's clinical staff.
About Brookhaven Retreat
Brookhaven Retreat is a women's treatment center nestled on a naturally beautiful 48-acre site secluded in the foothills of the Great Smoky Mountains. It has helped hundreds of women across the United States overcome depression, trauma, anxiety, substance use and a range of other behavioral health challenges. Brookhaven's Founder, Jacqueline Dawes, has predicated its gender-specific treatment on "healing emotional breakage" for women. In this way, she has established a sanctuary and a place where women can feel safe, secure and cared for by a staff of highly trained professionals.