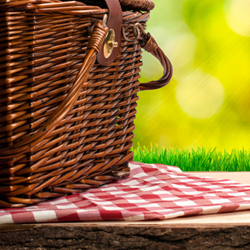 Knoxville, TN (PRWEB) June 01, 2016
Brookhaven Retreat, LLC, a unique residential treatment facility exclusively for women with mental health and/or substance abuse issues, celebrated Memorial Day with an alfresco barbeque luncheon held on Monday, May 30, 2016.
Memorial Day, a federal holiday held on the last Monday in May, is a time to reflect on the ultimate sacrifice by the country's armed forces. The holiday is also known as the unofficial start to the summer season. Many celebrate and recognize this holiday by hosting get-togethers to coincide with the holiday's long weekend. Brookhaven Retreat used this occasion as an opportunity to apply social and interpersonal skills learned as part of The Lily Program®, a 90-day treatment for women offered exclusively at Brookhaven Retreat.
Brookhaven Retreat's alfresco barbeque luncheon featured exquisite appetizers, entrees, and sides created by their very own culinary artists. Clients and staff enjoyed their share of shrimp with Thai chili cocktail; smoked beef brisket with homemade barbeque sauce; blackened salmon with citrus aioli; kale, broccolini, and cranberry salad; herb roasted fingerling potatoes; plus many other delicious treats.
Alfresco Luncheons promote dining, communicating, and relaxing in the great outdoors. There are numerous benefits to eating outdoors; one of the greatest is gaining valuable Vitamin D from the sun. Vitamin D levels have been shown to correlate to mental and physical health. The alfresco atmosphere also promoted open communication through interpersonal skills that are taught at Brookhaven Retreat.
About Brookhaven Retreat
Brookhaven Retreat is a women's treatment center nestled on a naturally beautiful 48-acre site secluded in the foothills of the Great Smoky Mountains. It has helped hundreds of women across the United States overcome depression, trauma, anxiety, substance use and a range of other behavioral health challenges. Brookhaven's Founder, Jacqueline Dawes, has predicated its gender-specific treatment on "healing emotional breakage" for women. In this way, she has established a sanctuary and a place where women can feel safe, secure and cared for by a staff of highly trained professionals.