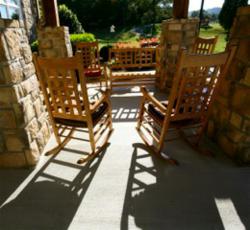 Knoxville, TN (PRWEB) October 16, 2012
Mental Illness Awareness Week (MIAW) could not have come at a better time for residential treatment facility, Brookhaven Retreat. MIAW was created by the U.S. Congress to recognize the efforts made by The National Alliance on Mental Illness to raise mental illness awareness. MIAW takes place during the first full week of October. Brookhaven Retreat works with women who are struggling with a mental illness and/or addiction, which often is the result of a mental illness. Brookhaven Retreat is excited for this week and for the opportunity to raise awareness.
Brookhaven Retreat has a 12-week rotating schedule that it will be starting over during October 8-12 and coincides with MIAW. Brookhaven Retreat's focus for the first week of the program schedule is "Trauma and The Brain." "Trauma and The Brain" is about educating the clients about how trauma can affect their brain and their recovery. Brookhaven Retreat offers a variety of therapy group sessions and classes for the clients to attend throughout the day. What is important about the group is that a curriculum as be been developed. For example, for "Trauma and The Brain" every group that a client attends will be focusing how trauma affects the brain. Also, the clients are educated about utilizing their Dialectical Behavioral Therapy skills and practicing a new way of living can bring about change in the neural pathways in their brain and their lives.
Clients will be participating in various activities aimed at keeping the week's theme in mind. In addition, Brookhaven Retreat will be stressing the importance of mental illness awareness to clients during MIAW. The clients will be participating in a trust walk that is designed to encourage the clients in the process of rebuilding trust within themselves and others in their life.
About Brookhaven Retreat
Brookhaven Retreat is a women's treatment center nestled on a naturally beautiful 48-acre site secluded in the foothills of the Great Smoky Mountains. It has helped hundreds of women across the United States overcome depression, trauma, anxiety, substance use and a range of other behavioral health challenges. Brookhaven's Founder, Jacqueline Dawes, has predicated its gender-specific treatment on "healing emotional breakage" for women. In this way, she has established a sanctuary and a place where women can feel safe, secure and cared for by a staff of highly trained professionals.