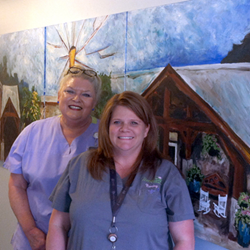 Knoxville, TN (PRWEB) May 11, 2016
Brookhaven Retreat ® LLC, a unique residential treatment facility exclusively for women with mental health and/or substance abuse issues, will honor their nursing staff during National Nurses Week with a luncheon, balloons and signs for decorations on May 12. They will also be given gift cards at the luncheon.
The nursing profession has been supported and promoted by the American Nurses Association (ANA) since 1896. National Nurses Week honors nurses worldwide beginning each year on May 6 and ends May 12, which is Florence Nightingale's birthday. Nightingale is one of if not the most famous nurse in history for transforming nursing into the respectable profession for women that it is today. In 1860, she established the first professional training school for nurses, the Nightingale Training School at St Thomas' Hospital. She also campaigned to improve health standards and published more than 200 books, reports and pamphlets on hospital planning and organization, which are still widely read and respected today, including her most famous work, "Notes on Nursing: What It Is and What It Is Not."
As of 1998, May 8 was designated as National Student Nurses Day, to be celebrated annually. And as of 2003, National School Nurse Day is celebrated on the Wednesday within National Nurses Week each year.
Each of ANA's state and territorial nurses associations promotes the nursing profession at the state and regional levels with celebrations to recognize the contributions that nurses and nursing make to the community.
The nursing staff at Brookhaven Retreat is essential to the daily care of clients as they work through their mental health issues alongside any physical ailments or conditions that require monitoring, medication or attention of any kind.
"We rely heavily on our nursing support staff," says Jacqueline Dawes, founder of Brookhaven Retreat. "National Nurses Week is a grand opportunity that we gladly take to honor these women who help make Brookhaven Retreat the nurturing, safe and highly effective facility it is. We could not function without them and therefore, wholeheartedly appreciate the effort they put forth toward taking the best possible care of our clients."
About Brookhaven Retreat
Brookhaven Retreat is a women's treatment center nestled on a naturally beautiful 48-acre site secluded in the foothills of the Great Smoky Mountains. It has helped hundreds of women across the United States overcome depression, trauma, anxiety, substance use and a range of other behavioral health challenges. Brookhaven's Founder, Jacqueline Dawes, has predicated its gender-specific treatment on "healing emotional breakage" for women. In this way, she has established a sanctuary and a place where women can feel safe, secure and cared for by a staff of highly trained professionals.