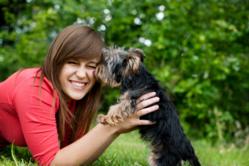 Knoxville, TN (PRWEB) May 02, 2013
National Pet Week, observed May 5-11, was created by the American Veterinary Medical Association in part to foster responsible pet ownership and honor the human-animal bond. Brookhaven Retreat believes that pets have an indispensible place in mental health recovery as therapy and service animals.
Pets have a unique bond with their owners and provide a range of physical and mental health benefits. The CDC reports that pet ownership can decrease blood pressure, cholesterol and triglycerides. Animals also provide comfort to women suffering from mental health issues such as depression and anxiety. They provide much needed support no matter the time of day, and encourage the healthy habits necessary to maintain recovery.
There are several types of service dogs beneficial for women recovering from mental health issues. Mental health service dogs help those with PTSD, panic disorders, anxiety disorders, mood disorders and other mental illnesses adhere to work and medication schedules. These dogs also help calm their owners during panic attacks and other periods of illness.
Emotional support dogs help those with depression and related issues find comfort and support. They offer relief from feelings of isolation, encourage social interactions and outdoor exercise, provide daily structure by encouraging routines and increase feelings of wellbeing.
The last type, therapy dogs are used to help patients in hospital and treatment settings. Animal-assisted therapy helps patients feel more relaxed and open to participate during sessions. Dogs also help calm patients during difficult therapeutic breakthroughs.
Brookhaven Retreat's Poncho Program helps women establish healthy life habits following residential treatment. During the program, women consider the possibility of pet ownership and whether they could benefit from the healthy habits encouraged by a companion animal.
Pet ownership brings a positive focus into a woman's life. During National Pet Week, Brookhaven Retreat promotes awareness of the mental health benefits of companion animals. It encourages women to consider whether pet ownership fits into their lives. With the help of a supportive pet, women may progress through recovery aided by the unconditional love of a cherished pet.
About Brookhaven Retreat
Brookhaven Retreat is a women's treatment center nestled on a naturally beautiful 48-acre site secluded in the foothills of the Great Smoky Mountains. It has helped hundreds of women across the United States overcome depression, trauma, anxiety, substance use and a range of other behavioral health challenges. Brookhaven's Founder, Jacqueline Dawes, has predicated its gender-specific treatment on "healing emotional breakage" for women. In this way, she has established a sanctuary and a place where women can feel safe, secure and cared for by a staff of highly trained professionals.