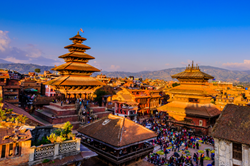 Knoxville, TN (PRWEB) May 06, 2015
Brookhaven Retreat® LLC, a unique residential treatment facility exclusively for women with emotional and mental health challenges, and/or substance abuse issues supports disaster relief efforts in response to devastating earthquake in Nepal.
In response to the devastating earthquake in Nepal, Brookhaven Retreat will be sending support and supplies to the stricken region. Brookhaven Retreat views global stewardship as a shared international responsibility. In response to the devastation wrought by the earthquake, Jacqueline Dawes, Founder of Brookhaven Retreat, will deliver food, household supplies, clothing, and personal hygiene items to a local relief agency for distribution in Nepal. In addition, specialists will be available on the facilities 'Aftercare' call line to provide support for alumnae suffering from symptoms related to secondary trauma from media coverage of the disaster. Secondary trauma, or vicarious trauma, is the emotional duress that results when an individual hears about the firsthand trauma experiences of another or is indirectly exposed.
Secondary trauma can occur from watching videos, news reports, viewing photos, or hearing graphic accounts of traumatic or violent events. A preexisting susceptibility or an unresolved emotional/mental health issue can cause secondary traumatic stress disorder. Additionally, people who have never previously experienced a traumatic event may develop symptoms or conditions associated with post-traumatic stress disorder through vicarious exposure to those events. These symptoms can include hyper vigilance, hopelessness, sleeplessness, chronic exhaustion, anxiety, guilt, social withdrawal, anxiety, bereavement, anger, and severe depression. Many symptoms do not initially present and may occur gradually up to four weeks after exposure to the traumatizing event. Brookhaven Retreat staff will continue to be available to all alumnae for assistance as needed.
About Brookhaven Retreat
Brookhaven Retreat is a women's treatment center nestled on a naturally beautiful 48-acre site secluded in the foothills of the Great Smoky Mountains. It has helped hundreds of women across the United States overcome depression, trauma, anxiety, substance use and a range of other behavioral health challenges. Brookhaven's Founder, Jacqueline Dawes, has predicated its gender-specific treatment on "healing emotional breakage" for women. In this way, she has established a sanctuary and a place where women can feel safe, secure and cared for by a staff of highly trained professionals.