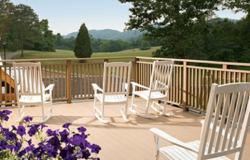 Knoxville, TN (PRWEB) October 31, 2012
Brookhaven Retreat is delighted to announce the release of its new website. All those interested in gathering information regarding dual diagnosis, mental health and substance abuse are invited to review the new format.
The new website provides visitors with easier access to information regarding mental health problems, addictive behavior, substance abuse and available treatment options.
Over the years, Brookhaven Retreat's clients, alumni and other professionals have requested a website that is motivational, informative and easy to use. The website now features a newly designed front page and drop down menu system to ease navigation. The front page now also better educates visitors about the philosophy, environment and treatment methods offered by Brookhaven Retreat. The drop down menus feature at-a-glance browsing of therapies, diagnostic tools and mental health treatment options that are available. The new website is more communicative and informative than ever before, delivering frequent news updates and explanatory videos.
Brookhaven Retreat recently observed Mental Illness Awareness Week, which advocates the destigmatization of mental health problems and urges people suffering from mental health issues to seek appropriate treatment options. Through its newly polished website, Brookhaven Retreat is participating in the solution.
Brookhaven Retreat delivers exemplary care and healing to women with mental health and substance abuse issues, and with the help of its new website, will inform women across the United States of the quality and uniqueness of its program.
About Brookhaven Retreat
Brookhaven Retreat is a women's treatment center nestled on a naturally beautiful 48-acre site secluded in the foothills of the Great Smoky Mountains. It has helped hundreds of women across the United States overcome depression, trauma, anxiety, substance use and a range of other behavioral health challenges. Brookhaven's Founder, Jacqueline Dawes, has predicated its gender-specific treatment on "healing emotional breakage" for women. In this way, she has established a sanctuary and a place where women can feel safe, secure and cared for by a staff of highly trained professionals.