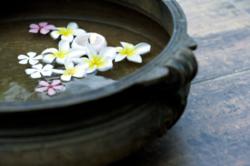 Knoxville, TN (PRWEB) December 06, 2012
A home is so much more than a shelter from rain and snow; it is a place of warmth and gathering, where we celebrate holidays with family and relax after a day at work. A Princeton University Neuroscience Institute study revealed that cluttered environments hinder our ability to focus and restrict our brain's ability to process information. But clutter also monopolizes free space, making daily activities more difficult, and can lead to stress and frustration.
Space is so important when it comes to mental wellness. With this in mind, Brookhaven Retreat is excited to announce that it will be redecorating all of its client rooms and dining area in order to continue to provide the very best in residential treatment care.
A home is an expression of the self, and has the ability to affect our moods and emotional health. Just as clutter creates stress, a well-decorated area creates a happy, healthy environment. An area should flow, so that it isn't hard to move around in or a chore to find a free surface. A space has the ability to create stagnation and anxiety, or it can be warm and welcoming place to come home.
In the coming year, Brookhaven Retreat plans to redecorate the majority of its common and private areas. This is to help maintain a fresh and beautiful environment, and to continue to provide a facility in which women feel as at home and as comfortable as possible. This redecoration coincides with Brookhaven Retreat's routine mattress changes, which are a part of efforts to maintain the highest standards of quality and comfort.
The new furnishings are in keeping with Brookhaven Retreat's current decorating style that is free of clutter and distractions, allowing women to relax and focus on themselves during recovery. The items that do decorate the spaces at Brookhaven Retreat provide comfort and create a beautiful atmosphere that inspires peace and happiness.
Brookhaven Retreat maintains a constant awareness of the design and placement of items. Large windows and skylights allow abundant light and serene views of nature: rolling hills, waving trees and flowers blooming in a rainbow of colors. Indoors, plants bursting into bloom and simple, yet elegant furniture creates a soothing and rejuvenating atmosphere. The new color scheme includes shades of pale lavender and other calming colors that maintain a relaxing space.
Brookhaven Retreat is dedicated to creating a beautiful environment that nurtures the healing journey of women suffering from substance abuse and other mental health issues. Decoration plays a large part in setting the tone for the journey through recovery, creating an atmosphere conductive to healing and self-discovery. The upcoming redecoration will maintain Brookhaven Retreat's communal and private spaces as sanctuaries for women to heal.
About Brookhaven Retreat
Brookhaven Retreat is a women's treatment center nestled on a naturally beautiful 48-acre site secluded in the foothills of the Great Smoky Mountains. It has helped hundreds of women across the United States overcome depression, trauma, anxiety, substance use and a range of other behavioral health challenges. Brookhaven's Founder, Jacqueline Dawes, has predicated its gender-specific treatment on "healing emotional breakage" for women. In this way, she has established a sanctuary and a place where women can feel safe, secure and cared for by a staff of highly trained professionals.