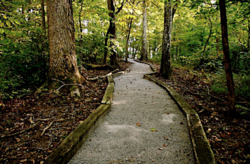 Knoxville, TN (PRWEB) April 04, 2013
Spring this year has brought a flurry of excitement to Brookhaven Retreat. Not only is Brookhaven Retreat busy implementing a new staff DBT skills class and wrapping up its Focused Standards Assessment, but it is also excited to celebrate its seventh anniversary just as East Tennessee is burgeoning in a riot of colorful blooms.
"It's exciting to watch Brookhaven grow and mature," legal counsel Teresa Rankin said. "Staff and practices just keep getting stronger and stronger every day. You get the opportunity to touch so many lives in a positive way."
The strength of Brookhaven Retreat's treatment philosophy can be seen in the dedication of its clinical and medical staff as well as its growing alumnae community. The hard work and devotion continuously poured into its program is reflected in the lifelong psychological health reached by the women treated in its facility.
Brookhaven Retreat's Lily, Poncho and Sweet Pea programs have helped women recover from mental health issues and create lives of health and stability for seven years now, and it looks forward to dedicating itself to yet another year in the service of women searching for emotional health.
Brookhaven Retreat is thrilled to be entering its eighth year of service to women suffering from mood disorders, personality disorders, trauma and addiction issues. It would like to thank all staff, agencies and facilities that have assisted in its growth and made seven years of phenomenal service to women's emotional health possible.
About Brookhaven Retreat
Brookhaven Retreat is a women's treatment center nestled on a naturally beautiful 48-acre site secluded in the foothills of the Great Smoky Mountains. It has helped hundreds of women across the United States overcome depression, trauma, anxiety, substance use and a range of other behavioral health challenges. Brookhaven's Founder, Jacqueline Dawes, has predicated its gender-specific treatment on "healing emotional breakage" for women. In this way, she has established a sanctuary and a place where women can feel safe, secure and cared for by a staff of highly trained professionals.