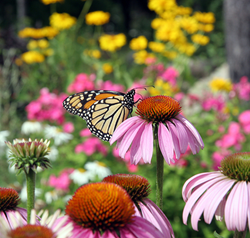 Knoxville, TN (PRWEB) July 28, 2016
Brookhaven Retreat®, LLC, a unique residential treatment facility exclusively for women with mental health and/or substance abuse issues, clients visited University Gardens on July 23rd as a Therapeutic Outing.
On July 23rd, the clients of Brookhaven Retreat visited the University Gardens, located on the campus of the University of Tennessee and the University of Tennessee Institute of Agriculture in Knoxville, TN, as a Therapeutic Outing. The University Garden is an outdoor lab created to evaluate how each plant performs in a specific environment and what the optimal landscape types for each plant are. Visitors to the Garden get to experience the beauty of the plants that thrive in the Tennessee climate. The tour of the Garden began at Friendship Plaza and the clients strolled through the arboretum, demonstration garden, shade garden, wildflower meadow, and biogreen gardens as well as many other garden types.
As part of The Lily Program®, a 90-day treatment for women offered exclusively at Brookhaven Retreat, clients are offered therapeutic outings as an opportunity to use the skills they have learned in the program in a real world environment.
Therapeutic outings provide an opportunity for recreation, education, and intellectual stimulation outside of the Seymour, Tennessee based facility.
Brookhaven Retreat's founder Jacqueline Dawes, says, "Every day experiences are important for both perspective and opportunity to use the skills taught within the program. The outings we go on are a taste of what life will be like for clients after they complete the program and return home. With new skills and a more keen awareness of their issues and how to address them, they experience life in a heightened state, yet with supervision. These are opportunities to discuss the outings afterwards and delve deeper into the experiences and both the positive and negative aspects. It's a learning experience and more often than not, rather enjoyable."
After visiting the University Gardens, the clients enjoyed shopping at Hobby Lobby craft store to purchase art supplies for projects and to also get inspiration for projects.
About Brookhaven Retreat
Brookhaven Retreat is a women's treatment center nestled on a naturally beautiful 48-acre site secluded in the foothills of the Great Smoky Mountains. It has helped hundreds of women across the United States overcome depression, trauma, anxiety, substance use and a range of other behavioral health challenges. Brookhaven's Founder, Jacqueline Dawes, has predicated its gender-specific treatment on "healing emotional breakage" for women. In this way, she has established a sanctuary and a place where women can feel safe, secure and cared for by a staff of highly trained professionals.