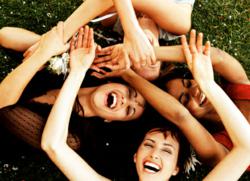 Knoxville, TN (PRWEB) January 30, 2013
February 1 kicks off American Heart Month with National Wear Red Day, a day designed to raise awareness about heart disease and its impact on women's health. The CDC reports that heart disease causes one in every four female deaths, making it the number one killer of women. During the month of February, Brookhaven Retreat will focus on a crucial yet often ignored method of both helping prevent heart disease and boosting mental wellness: cultivating friendship.
Women with mental health or substance abuse issues have often isolated themselves from friends and family and in many instances lack the support of a close group of friends. Mental health has a powerful link with physical health; the hormones produced in reaction to our emotional environment have well documented physical effects on the body. Because of this, friendship is essential both to a woman's emotional and physical health.
There have been numerous studies about the effect of friendship on physical health. A Flinders University Study found that older people with large networks of friends outlived those with the fewest by 22 percent. A Swedish study found that having fewer friends increased the risk of heart attacks by 50 percent. And a study sponsored by the National Heart, Lung and Blood Institute surveyed 500 women and found that women with supportive social networks had lower rates of high blood pressure and diabetes.
Mental wellness and physical health are closely linked, and it is important to take care of the two together. The National Medical Association reports that social support is effective at relieving stress, a prevalent contributor to heart disease, inflammation and clogged arteries. Friendship is a key support element that benefits both mental and physical aspects of health by relieving stress while also encouraging confidence and happiness.
Mental health issues affect all aspects of life including friendship, which adds an additional level of danger to women's physical health. Maintenance of healthy friendships is a crucial part of emotional and physical wellness following mental health treatment; friendship gives women a supportive outlet with which to share emotions and relieve stress.
February is a month centered on the heart. This month, Brookhaven Retreat's life realignment program will address friendship as one of several areas critical to lifelong recovery from mental and physical issues. Evaluating which friendships are supportive and learning how to nurture these in a healthy way supports more than mental wellness, it helps keep the most frequent killer of women at bay.
On National Wear Red Day, Brookhaven Retreat encourages its staff to sport red in honor of friendship's importance in healing from mental and physical ailments, and its contribution to a whole and healthy life for all women.
About Brookhaven Retreat
Brookhaven Retreat is a women's treatment center nestled on a naturally beautiful 48-acre site secluded in the foothills of the Great Smoky Mountains. It has helped hundreds of women across the United States overcome depression, trauma, anxiety, substance use and a range of other behavioral health challenges. Brookhaven's Founder, Jacqueline Dawes, has predicated its gender-specific treatment on "healing emotional breakage" for women. In this way, she has established a sanctuary and a place where women can feel safe, secure and cared for by a staff of highly trained professionals.