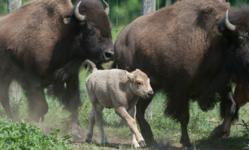 Knoxville, TN (PRWEB) July 26, 2012
Extremely rare, a white buffalo is considered to be a symbol of sacred life and abundance among several Native American religions. The birth of a white buffalo is thought to be the most important of prophetic signs to begin life's sacred hoop, for restoring hope and for a harmonious prosperous future. For that reason, the birth of the most recent white buffalo is reason to celebrate. The white buffalo was born June 16 on Peter Fay's Mohawk Bison ranch in Goshen, Connecticut. Although, previously unaware of this sacred symbol, Fay has been excited to learn about the traditions surrounding the new addition to his ranch. In July, elders from the Lakota Nation in South Dakota with other traditional Indians from around the northeast will participate in a naming ceremony for the calf.
White Buffalo is the final level in the treatment program at Brookhaven Retreat, which makes this rare happening exciting to the staff and clients. When admitting into Brookhaven Retreat, a client will work with her Primary Therapist to develop a set of goals that will collectively become her individualized treatment plan. Throughout treatment, clients will begin to heal and grow in all areas of their life with goals evolving along the way. Brookhaven Retreat has developed a level system that uses animals to represent specific areas that a woman will be experiencing in her recovery.
While all levels are personal growth achievements, becoming a White Buffalo is the final level one can achieve. Just like the Native Americans, Brookhaven Retreat views the white buffalo as the most revered, as being strong and resourceful. At Brookhaven Retreat it is symbolic of emotional uniqueness and perseverance, where a client has become an emotional leader - not an emotionally led leader. The birth of the white buffalo now brings hope to the women who are at Brookhaven Retreat.
About Brookhaven Retreat
Brookhaven Retreat is a women's treatment center nestled on a naturally beautiful 48-acre site secluded in the foothills of the Great Smoky Mountains. It has helped hundreds of women across the United States overcome depression, trauma, anxiety, substance use and a range of other behavioral health challenges. Brookhaven's Founder, Jacqueline Dawes, has predicated its gender-specific treatment on "healing emotional breakage" for women. In this way, she has established a sanctuary and a place where women can feel safe, secure and cared for by a staff of highly trained professionals.