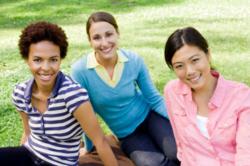 Knoxville, TN (PRWEB) May 16, 2013
May 12 – 18 is National Women's Health Week. Coordinated by the U.S. government's Office on Women's Health, it promotes improvement in women's physical and mental health. Brookhaven Retreat helps women recover from mental health and substance abuse issues, and recognizes the importance of putting women's health first.
A woman frequently juggles her career, family, home and social life so that taking care of herself falls to the bottom of a long to-do list. While this is fine in the short term, chronic neglect can aggravate existing stress and endanger physical and mental health.
National Women's Health Week proposes five methods for improving women's health. The initiative encourages women to receive routine preventative screenings, be more active, eat healthfully, avoid unhealthy behaviors and manage mental health.
Preventative screenings help women maintain physical health and prevent medical issues from building up so that they compromise long-term health or mental wellness. A healthy nutrition plan and routine exercise helps regulate hormones relating to mood and keeps the body physically healthy.
Sleep and stress also have a significant impact on mental health. The Office on Women's Health suggests women maintain mental wellness by receiving adequate sleep and reducing daily stress. A 1998 University of California study found that inadequate sleep increases the risk for depression, anxiety disorders and substance abuse. Stress similarly increases the risk of mood and anxiety disorders while also negatively affecting physical health.
Brookhaven Retreat creates comprehensive health plans to help women get healthy. Women in its residential program analyze their habits and create a plan to improve each area of their lives so that it supports a healthy whole. A team of doctors, nurses, therapists and clinicians helps women develop the healthy sleep, nutrition, medication, self-care and emotion regulation habits that promote wellness.
Brookhaven Retreat believes it is critical for women to take care of themselves in order to live happy, healthy lives. During National Women's Health Week, Brookhaven Retreat urges women to take a step back, analyze the aspects of their lives that could use improvement and make the changes necessary to stay healthy.
About Brookhaven Retreat
Brookhaven Retreat is a women's treatment center nestled on a naturally beautiful 48-acre site secluded in the foothills of the Great Smoky Mountains. It has helped hundreds of women across the United States overcome depression, trauma, anxiety, substance use and a range of other behavioral health challenges. Brookhaven's Founder, Jacqueline Dawes, has predicated its gender-specific treatment on "healing emotional breakage" for women. In this way, she has established a sanctuary and a place where women can feel safe, secure and cared for by a staff of highly trained professionals.