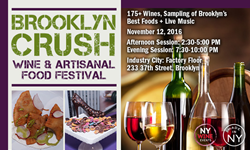 This fall's wine selections – including some amazing ones from New York State – along with an array of craft food makers, plus Elan Trotman's masterful sax skills are sure to create a festive atmosphere.
NEW YORK, NY (PRWEB) October 13, 2016
New York Wine Events is pleased to announce the return of the Brooklyn Crush Wine & Artisanal Food Festival. On Saturday, November 12, the bi-annual fest returns to the Factory Floor at Industry City in Brooklyn, New York for its Fall Edition. General admission sessions run 2:30-5pm and 7:30-10pm. A special Premium Early Access ticket offers guests the option of walking the expansive food and wine event one hour earlier than the rest of the crowd, commencing at 1:30pm for the afternoon session and 6:30pm for the evening.
Celebrity sommelier Joshua Wesson will serve as Wine Host for the event. Joshua, a featured presenter at the Aspen Food & Wine Classic for the past 25 years, has had a long, illustrious career in the food and wine industries including being named Best Sommelier in French Wines & Spirits in the United States (1984), and is a leading authority on the pairing of wine and food. He writes for numerous magazines and has been a guest on The Today Show, Good Morning America, CBS's The Early Show, and more. He is also a regular commentator on NPR/Public Radio International's "The Splendid Table and is co-owner of Suprema Provisions.
The Brooklyn tasting will feature over 175 wines along with light fare including cheese and cracker selections and hors d'oeuvres, plus numerous artisan food tables sampling charcuterie, vegan delights, baked goods, dipping oils, salsas, chocolates, non-alcoholic beverages, and more. Participating artisanal food companies sampling their offerings will also feature full sized items for patrons to purchase and enjoy at home. Guests will also be able to take home their complimentary wine tasting glass as a souvenir and enjoy live contemporary jazz performances throughout the evening by award-winning saxman Elan Trotman and his band.
Tasting tables located throughout the industrial space will feature a mix of wines apropos for fall sipping and the upcoming holiday season. Selections include lush, full-bodied red wines, refreshing white wines, plus sweet, sparkling, and specialty selections. Old, new and emerging wine regions will be represented and include varietals from France, Italy, Spain, Portugal, South America, South Africa, Australia, New Zealand, the United States, and more. Once again, the event will feature several New York State wineries and guests will be able to purchase selections they enjoy by the bottle or case.
"It's a pleasure return to Brooklyn with this always-lively event," notes Sam Kimball, founder of New York Wine Events. "The crowd ranges from wine-loving novices to those with more seasoned palates as well as foodies looking to explore tasty finds from Brooklyn and beyond. This fall's wine selections – including some amazing ones from New York State – along with an array of craft food makers, plus Elan Trotman's masterful sax skills are sure to create a festive atmosphere."
Saxophonist Elan Trotman has quickly become one of jazz's most exciting performers as he continues to stand out and push boundaries as a composer, performer, teacher and recording artist. He has recorded and performed with a number of world-class musicians, including Michael McDonald, Roberta Flack, Jonathan Butler, Keiko Matsui, Johnny Gill, Earl Klugh, Jeff Lorber, Peter White, and Brian Simpson, among others. The New England Urban Music Awards and The Barbados Music Awards have both named Elan Trotman "Jazz Artist of The Year" on multiple occasions.
Sponsors and participating artisan food companies to date include Cadillac as presenting sponsor, Alexian Pate, ARV Sweets, Bache-Gabrielsen, barkThins, Bodegas Vivanco, Bonne Fete Baking, Brooklyn Winery, Brotherhood Winery, Casa Visco, Cocktail Crate, Crown Maple, Cutco, Don Tony Perez Wine, Drunken Fruit, Ends Meat, Fulkerson Winery, Gardein, Garlic Expressions, Gramercy Vineyards, Green Mountain Energy, Immune Schein, Jamesport Vineyards, John Wm. Macy's Cheesesticks, KAS Spirits, Kelly & Jones Fragrances, Li-lac Chocolates, Ma Lung Winery, Masala Mama, Mysto Mead, Narda's Ginger Punch, Palmer Vineyards, Patrichius Tokaj, Pierre's Spicy, Pipernilli, Reilly Cellars, Rescue Chocolate, Salsa di Parma, Spread-mmms Tapenade, Subtle Tea, Taconic Distillery, Topo Chico Sparkling Water, Trois Petits Cochons, Vines & Branches, The Virgin Olive, The Wining Hour, and Yankee Folly Cider. Participating restaurants sampling their specialties include Fonda Cocina Mexicana and Sweet Chick during the evening session, and Table 87 and Crow Bar for both sessions. Additional restaurants and sponsors to be announced.
New York Wine Event's popular tastings in the New York Metro area have had sold out crowds over the last decade, and the Brooklyn Crush fall event is expected to do the same.
Tickets are on sale now, priced from $61.50-$120, depending upon ticket level and time of purchase. Check the web site for details about limited time early purchase discounts, 15% savings for groups of 10 or more, and the Taste VIP program membership benefits including complimentary event tickets and discounts. Advance purchase for Brooklyn Crush is highly recommended; a limited number of tickets will be sold at the venue on the day of the event, if available.
For complete details and to purchase tickets to the Brooklyn Crush Wine & Artisanal Food Festival, visit NewYorkWineEvents.com.
About New York Wine Events
New York Wine Events is a comprehensive web site and event directory committed to bringing together New York Metro wine and food lovers, whether it is at one of their own wine festivals, at the other New York area food and drink events appearing on their pages, or through their in-depth articles about New York's vibrant food and drink scene. Visit NewYorkWineEvents.com.