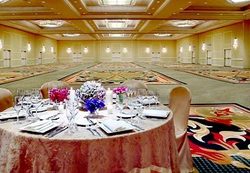 Brooklyn, NY (PRWEB) March 29, 2010
Located in the heart of Downtown Brooklyn in Brooklyn Heights, the hotel features 665 guest rooms and suites and over 30,000 square feet of banquet space, including a Grand Ballroom that seats up to 1,500 guests. Recently renovated, the New York Marriott at the Brooklyn Bridge offers a modern setting for a Brooklyn wedding reception while observing cultural traditions and the Jewish faith.
The hotel's 18,000 square-foot Grand Ballroom is one of the largest in all of New York City, with four open natural skylight chuppahs. The catering team works with only the finest kosher caterers, and the hotel has its own separate kosher kitchen to serve up the best kosher catering in Brooklyn.
Wedding guests will enjoy all the comforts of spacious guest rooms at the New York Marriott at the Brooklyn Bridge, with new bedding and room furnishings; including flat screen TVs, connectivity panels, built-in coffee nooks and mini-refrigerators. In addition, Sabbath locks on guest room doors provide ease in religious observance.
The hotel has been the venue for many kosher weddings, both large and small, over its 10 years of operation in Brooklyn. In recent years, an adjacent 24-story tower was completed, with 280 new guest rooms and sweeping views of New York Harbor and Manhattan, making the Marriott a perfect event venue in Brooklyn.
The New York Marriott at the Brooklyn Bridge was designated "Marriott Hotel of the Year" two years in a row, rating higher than any of the 300+ full-service hotels in the chain. Based on surveys of customer satisfaction, associate satisfaction and sales, it continues to receive outstanding marks. Located within Renaissance Plaza, and adjacent to the Metro Tech Center, Brooklyn's courthouses, municipal buildings, surrounding universities and major attractions, the New York Marriott at the Brooklyn Bridge is within five minutes of the sights and sounds of Manhattan, with nine major subway lines all within one block and close to many restaurants in downtown Brooklyn.
The New York Marriott at the Brooklyn Bridge is located at 333 Adams Street in Brooklyn Heights. Main Hotel Number: 718-246-7000. For more information about Brooklyn wedding receptions and kosher catering in Brooklyn, visit us online at http://www.brooklynmarriottweddings.com.
###