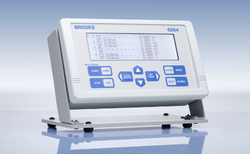 The new compact design of the 0254 significantly reduces the footprint by nearly 5 times, compared to our previous model
Hatfield, PA (PRWEB) March 27, 2009
Brooks Instrument, a world-leading flow measurement and control provider, introduced today a new four-channel power supply, readout, and set point controller. The model 0254 is an innovative, reliable microcomputer-based controller that provides power for up to four Brooks thermal mass flow, Quantim Coriolis mass flow, and/or pressure devices-- all in a new compact design.
The 0254 can be used to generate flow setpoint commands, display flow rate, totalize, batch, blend, and more. This fully RoHS compliant device has a very user-friendly operation and is offered with multiple mounting options including rack mount, panel mount, and table-top mount.
"The new compact design of the 0254 significantly reduces the footprint by nearly 5 times, compared to our previous model," stated Steve Kannengieszer, Director of Marketing, Mass Flow Products. "The large backlit graphic display allows users to view real-time process variables and the programmed setpoint for each connected device right on the home screen."
The process variable and setpoint for each of the four channels are displayed simultaneously for quick reading and adjustment on the large backlit graphic display. Powerful automatic built-in diagnostic tests support easy installation and assist in ensuring a long, trouble free operating life. The 0254 has general purpose approval to UL61010, pending.
Visit BrooksInstrument.com for more information about the new 0250 Series four-channel power supply, readout, and set point controller.
About Brooks Instrument
Brooks Instrument is a world-leading flow measurement and control instrument provider, with headquarters in Hatfield, PA USA, and manufacturing locations, regional sales, and service offices in the Americas, Europe, and Asia. Brooks' products include glass and metal tube variable area meters (rotameters), thermal mass flow meters and controllers, Coriolis mass flow meters, controllers and transmitters, pressure control products, magnetic level instruments, and a variety of flow accessories. Since its founding in 1946, Brooks' products have supported the growth of dozens of industries from biopharmaceuticals, oil and gas, fuel cell research and chemicals, to medical devices, analytical instrumentation, semiconductor manufacturing, and more. Throughout the world, Brooks customers rely on a highly trained network of local representative specialists to help solve unique or unusual flow applications.
###