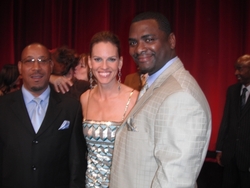 We hope that the powerful stories in 'Tested' cause readers to reexamine and reevaluate prejudices and preconceptions.
Dallas, TX (Vocus) October 14, 2010
Exoneree Christopher Scott had no idea he would one day be walking the red carpet with Hilary Swank at the L.A. Premiere of Conviction, personally introduced to the audience following the screening, or appearing on Larry King Live representing 1 of 12 men featured in TESTED: How Twelve Wrongly Imprisoned Men Held onto Hope (Brown Books, http://brownbooks.com), who were given voice to share their personal journeys of hope, forgiveness, and redemption through a series of one on one interviews conducted by author Peyton Budd.
The men and the authors were invited guests of Fox Searchlight Productions. Hilary personally introduced seven of the 12 men who were able to attend the event at the end of screening inviting each to say a few words. The men and the authors were in L.A. to tape Larry King Live with the cast of Conviction.
Conviction, starring Hilary Swank, reveals the true story of Kenny Waters, a man wrongly imprisoned for a crime he did not commit. TESTED shares the personal journeys of 12 more men whose lives were shattered by the injustice of wrongful convictions.
Wrongfully convicted for capital murder in 1997, Scott spent more than 12 years behind bars in the Texas Department of Criminal Justice's Correctional Institution's Division Unit in Huntsville. He was released only after Alonzo Hardy, who was convicted of another crime in 2009, made a prison confession that he and another man had actually committed the robbery and murder. The case, which prosecutor Mike Ware said boiled down to mistaken eyewitness testimony, is a rare exoneration because it did not include DNA evidence. Scott was freed on October 23, 2009.
TESTED is dedicated to all the men and women who are wrongly convicted and to those who work tirelessly to prove their innocence.
"Every one of these men has lost something that can never be restored," said Dorothy Budd. By allowing each of the men to tell his story in his own words, TESTED runs the emotional gamut from deep despair to final vindication.
"When you get convicted for something you didn't do, and hear that gavel hit along with the words 'we find this man guilty,' you do time," says exoneree Billy Smith. "Whether it's a day, a week, a year, or twenty years…that takes something. It takes a bite out of you."
For more information visit: http://www.testedthebook.com.
To set up an interview, please contact:
Cindy Birne
Director of Public Relations
Brown Books Publishing Group
972/381- 0009
cindy(at)brownbooks(dot)com
###