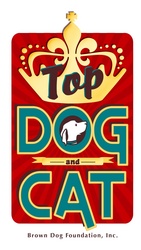 NASHVILLE, Tennessee (Vocus) March 3, 2010
Brown Dog Foundation, a Nashville-based nonprofit dedicated to helping pets in need of care, invites you to nominate your pet for its 4th Annual Top Dog & Cat Competition. In this 10-week fundraising campaign, dogs and cats vie for the coveted title of "Top Dog" or "Top Cat."
Nominate a Pet Today
Nominate a dog or cat at Brown Dog's website now through April 1, 2010. There's no need to call the groomer or teach your pet to sit, and breeds of all kinds are welcome to participate! Nominees will be announced on April 3 during a brunch hosted by Brown Dog.
Vote Early and Vote Often
Once the nominees are announced, pets and their owners collect as many votes as they can. Each vote is $1 and benefits Brown Dog. The dog and cat with the most votes by June 12 is crowned Top Dog and Top Cat. Candidates can raise funds by placing a donation box located in a high-traffic location, starting a letter-writing campaign, sending an e-mail campaign to encourage online voting, hosting an event, holding a "Dress Down" day at your workplace, or simply writing a check.
There are no requirements to participate, and prizes are offered at various fundraising levels:

$150 – Event medallion
$250 – Event medallion and t-shirt
$500 – Event medallion, t-shirt and gift bag
$1,000+ – Event medallion, t-shirt, gift bag and gift certificate for dinner
And the Winners Are…
On June 12, the dog and cat with the most votes will be crowned at the Coronation Pawty hosted by news anchor Tom Randles with WSMV News Channel 4 and Bentley McWhorter at Rolling Hills Farm in Franklin, Tennessee. The Top Dog and Top Cat will receive fabulous prizes, including a crown, a trophy, and a complimentary pet portrait! Pawty attendees will enjoy a silent auction, music, BBQ, and adult beverages!
Last year's winners were Top Dog Finnbar Hogan, who raised more than $5,300, and Top Cat Pumpkin Nelsen, who raised more than $800. The competition raised a grand total of $21,000 last year, and Brown Dog hopes to raise $30,000 during the competition this year and to host at least 200 people at the Coronation Pawty.
Visit http://www.BrownDogFoundation.org to learn more, watch videos, and nominate your pet for Top Dog or Top Cat.
About Brown Dog Foundation
Brown Dog Foundation is a 501(c)(3) charity serving the state of Tennessee and raises money to help pet owners in temporary financial crisis who can't afford medical treatment for their much-loved, four-legged family members. Brown Dog provides financial assistance to help pay for life-saving veterinary treatments to save pets' lives. Visit http://www.BrownDogFoundation.com to learn more.
###