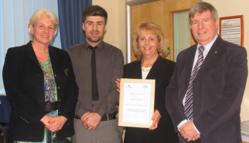 It is essential that we keep on top of the increasingly complicated rules and regulations governing export transactions so that we can continue to offer the first class service associated with Brown McFarlane. - Cathy Bottomer (Export Logistics Manager)
(PRWEB UK) 12 March 2012
The directors of Brown McFarlane were delighted to hear that the company's Export Logistics Manager, Cathy Bottomer, had achieved the International Trade Operations and Procedures (ITOPS) qualification in commercial documentation and freight forwarding and have passed on their congratulations to her.
"As Brown McFarlane grows its export business and explores new markets," says Cathy. "It is essential that we keep on top of the increasingly complicated rules and regulations governing export transactions so that we can continue to offer the first class service associated with Brown McFarlane. In this business, there is always something new to learn and my studies for this qualification have built on my existing skills and will definitely benefit the company's export trade."
Cathy's ITOPS qualification covers all of the main elements of export administration including export documentation, dispatch and shipping, export payments, legal requirements and administration procedures. The logistics department is crucial to the success of Brown McFarlane's export division and looks after all aspects of a customer's order from the time it is placed with the sales department through to its delivery to its final destination complete with all required documentation. Cathy is responsible for the transportation of Brown McFarlane products by road, rail, air and sea, and the company will move steel plates to more than forty different countries in the course of each year.
Brown McFarlane is committed to enhancing the skills of its employees as this benefits both the individual and the company and Cathy was supported by the company as she studied for the twelve months necessary to obtain her qualification. Training and support is offered to employees in all areas of the company both in the offices and on the shop floor.
It is this constant investment in staff that has helped Brown McFarlane to become one of the world's leading steel stockholders and distributors. Brown McFarlane provides a range of pressure vessel steel plate and stainless steel plate products, which include duplex steel and super duplex steel, to a range of market sectors. The company faces a bright outlook for 2012 as they look to strengthen their position within the Middle-East and the South-East Asian markets.