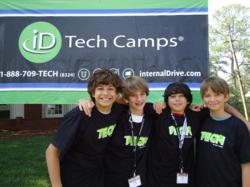 For 2012, iD is introducing new courses on how to create iPhone games.
Campbell, CA (PRWEB) May 23, 2012
Students in Providence and throughout Rhode Island who wish to create games for the iPhone® and iPad® this summer need travel no further than Brown University. iD Tech Camps will host Brown summer camps with new courses "Game Design for iPhone® & iPad® I" and "Game Design for iPhone® & iPad® II."
These popular Providence summer camps feature weeklong, day and overnight programs for ages 7-17. Although this is iD's sixth season of hosting programs at Brown, the curriculum is updated each year and there are always new choices for technology-minded students. For 2012, iD is introducing new courses on how to create iPhone® games.
The courses are segmented by age, with "Game Design for iPhone® & iPad® I" for ages 10-12 and "Game Design for iPhone® & iPad® II" for ages 13-16. Students will use GameSalad® software to create arcade style video games. The simple drag-and-drop toolset allows students with no programming backgrounds to make their own games from existing libraries of established behaviors and graphics. Each course culminates in a final project showcasing the student's new skills, and students can even take home their finished games to share with friends.
Other topics offered at iD's Brown camps include video game design and programming in C++ and Java. All classes have a maximum of eight students per instructor, allowing for personalized instruction. Adult-only teachers customize the module style curriculum to each student's abilities, and students can take several weeks of classes to build on their skills.
Aside from these Rhode Island summer camps, iD offers summer technology camps at 60+ university campuses nationwide. Students can take the same courses and learn essential technology skills at campuses including Stanford, Princeton, UCLA, NYU, Vassar, Amherst, UNLV, the University of New Mexico, and more. Check course availability at internalDrive.com
ABOUT iD TECH CAMPS AND iD TEEN ACADEMIES
iD Tech Camps and iD Teen Academies engage students in STEM education with summer programs for kids and summer programs for teens held at 60 prestigious universities nationwide. Learn how to make iPhone® apps, how to create your own video game, how model 3D animations with Autodesk® Maya®, how to build a website with Flash®, and more. Sessions are weeklong, day and overnight for students ages 7-18. Learn essential technology skills in small classes while attending sessions held at universities such as Stanford, UCLA, Princeton, and more. Teens preparing for college can build online portfolios and explore future career paths at iD Gaming Academy, iD Programming Academy, and iD Visual Arts Academy. Visit http://www.internalDrive.com or call 1-888-709-TECH (8324) for more information.