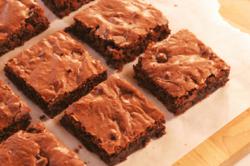 She's hands-down an awesome baker.
San Diego, CA. (PRWEB) April 24, 2013
Brownies & Brownies are soft, handmade chewy squares of all-natural deliciousness - A brownie perfection that won't disappoint says founder, Desi Lu.
A strong believer in fate and destiny, and the love of brownies she has, is a match made in heaven. Ever since she could remember, she would bake brownies in the kitchen. Her mom would get so mad at the mess she would make while baking, but after those delightful little squares came out of the oven and the aroma of chocolate filled the house - she was forgiven for a piece of brownie in exchange. "It always worked," she said. She remembers countless times burning her fingers trying to get the brownies out of the pan because she couldn't wait until they cooled.
Of course she grew up, went to college, followed her path in the corporate world, but her heart always belonged in the kitchen. She would find any excuse to bake brownies. One night after an event she hosted her brownies at, her husband told her to quit her job and to pursue where here heart belonged – in the kitchen. Finally fate had caught up with her, and with her husbands support, she was ready to take the leap and embrace her destiny. If not now then when?
So here she is, fast forward to age 32 with four beautiful children and a husband who has supported her in becoming a full-time baker - A brownie baker! She wants to share the same guilt-free comfort food that's as delicious to munch on as to gift to a loved one. Behind the scenes, her secret recipe brings together these fine ingredients in delicious harmony, creating the most perfectly, chewy, moist, fluffy little squares of chocolaty brownie goodness. In just one bite, she promises to deliver an experience you'll fall in love with.
Desi Lu has launched a funding campaign on Kickstarter intended to fund for ingredients to stock the pantry for the first official large run of her Brownies & Brownies Co. She has sourced the best ingredients from organic to all natural without making any short-cuts. Her chocolates come straight from the master chocolatiers of Switzerland, for the absolute best in taste and quality.
Straight from the oven to your doorstep, she has designed and developed special packaging to maintain the ultimate in freshness, while maintaining costs low and prices reasonable for her customers. With the support from funds raised, she can stock the pantry, get the packaging and shipping supplies needed; and start delivering pledge rewards right away.
Since the launch of her campaign seven days ago, she has gained great momentum with almost 400 pledgers already and growing by the numbers everyday. The funding campaign ends on May 16, 2013.
For more details about the project and to make a delicious pledge for some scrumptious Brownies & Brownies, please visit:
http://www.kickstarter.com/projects/1681866642/brownies-and-brownies-outrageously-delicious