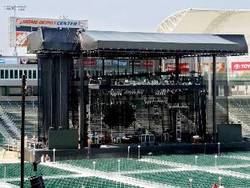 Brown United is AEG's first choice and go-to company when it comes to temporary structures. We know that we can always depend on the products and services they provide. ~Lee Zeidman Senior Vice President - AEG General Manager
Monrovia, CA (PRWEB) March 9, 2011
Supported by AEG, Event Live Expo is a cutting edge trade show that brings together all the stakeholders involved in the live event process. Meet industry pros from staging, sound, lighting, audio visual, rigging and trussing, special effects, merchandising, ticketing, and experience the latest technologies, innovations and services provided by the suppliers of the world's most awe-inspiring large-scale live events.
Brown United has a proven track record with companies such as AEG, ESPN, and Red Bull, and has provided stages and other event construction for events such as the Grammy's and Critics Choice Awards, to festivals such as Bonnaroo, Stagecoach, Coachella, and Mile High Music Festivals; as well as for artists such as Billy Joel, Elton John, The Eagles, Green Day, Eminem, Kiss, to name a few - and now they will be exhibiting at Event Live Expo 2011 on April 12th, 13th, 14th at the Los Angeles Convention Center.
From concerts to construction sites; seating to sound stages, the award-winning Brown United is diverse and thriving. The Brown United roofing and staging systems offer larger weight bearing capabilities than those of other staging suppliers, and can be configured in many different ways to be used for any size performance indoors or out.
The event construction specialists at Brown United will provide everything you need for your special event. Audience seating and Bleacher applications from Brown include television shows, golf tournaments, major parades, concerts, sporting, and special events. Many project structures are customized in order to meet client's needs. Brown United can build structures almost anywhere, in almost any condition. In addition, Brown United provides scaffolding for the industrial, construction, and entertainment industries. Their scaffolds also support great weights and can be customized to your industry needs.
"Brown United is AEG's first choice and go-to company when it comes to temporary structures. Whether it's for STAPLES Center, The Home Depot Center, L.A. LIVE or any of our other venues, we know that we can always depend on the products and services they provide. From roofing and staging structures to permanent grandstands, chairs, barricades, field covering and stairs, Brown United always comes thru. There is no more knowledgeable or professional "expert" in the business than John Brown and no company we trust more than Brown United."
~Lee Zeidman
Senior Vice President - AEG General Manager
STAPLES Center and NOKIA Theatre L.A. LIVE
"Only a handful of companies have continuously perfected the business models they have defined over years. One such standout company is Brown United. In their constant pursuit of higher standards they have created added value for both their new and their long time clients.
Doing one thing and doing it well is the traditional path to serving clients and for good reason: success lies in attention to details. Brown United plays to this strength by faultless and farsighted planning of each and every project they take on. To John Brown, a commitment to quality and personal customer service is Job #1, Moreover, Brown continues a long family tradition of focusing on client concerns, technological innovation, and product safety. Over the decades, on thousands of projects and shows the Brown name has stood for, and their family of companies have consistently delivered satisfaction on quality, timeliness, and final price.
Finding the rare company that has depth of inventory, financial solvency, long term experienced personnel, and maintains personal oversight to guarantee a positive result is the crucial element in making a successful "green light" decision."
~Patrick Stansfield ~ Legendary Production Manager
"Producing a large scale, multi-venue, televised event is a huge challenge and certainly not an exact science. Flexibitly, quality, dependability and diligence are the necessary qualities that I have found in Brown United. I have often said, this event could not happen without the dedication of Brown, our largest vendor for the X Games. They continue to exceed my expectations year after year. The fact is, I have a comfort level level with Brown United that I can't get anywhere else, and that is why we use them for every event ESPN produces."
Dittmann, Anthony – ESPN
Also available: Truss, sound and lighting support towers, delays, ADA lifts, barricades, turnstyles, chair rentals, mobile bleachers and stages.
For more information please contact Brown United at 1-800-44-BROWN or internationally at 626-357-1161. Visit the website at http://www.brownunited.com.
Media Contacts:
Annette Iglesias – 1-626-357-1161 annette(dot)iglesias(at)brownunited(dot)com
Jody Curtis – 323-712-4740 – webmaster(at)brownunited(dot)com
###