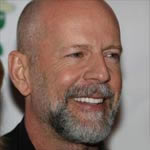 Bruce Willis plays a character that is perfectly balanced between being a likeable hero, yet as tough as an anvil. He's been my early favorite.
St George, UT (PRWEB) January 01, 2012
Bruce Willis' fans can vote for him to play the role of King Orden in the upcoming Runelords movie, as part of a new approach to movie making. But according to the producer David Farland, the head of the Runelords Movie Group, Willis is doing poorly in the poll. Fans need to rally. They can vote at http://www.RunelordsMovie.com and find a button there that they can put on their web page to influence others to vote too. This could be an Oscar winning role in an epic production for Willis.
On December 22, Bruce Willis was listed as "Likely to never win an Oscar," by Johnathon Last at Movies, Films, Flicks.
But he could be about to meet a career-making opportunity. Neither he nor his fans seem to realize it, or perhaps they don't care.
Willis is being considered by producers to play the part of King Orden in the major epic fantasy franchise, The Runelords.
Fans get to vote for their favorite actor, and Willis is up against Brad Pitt and Russell Crowe for the part.
Willis is starting to fall behind and may be out of the running unless his fans go vote for him. Yet among the producers, he is considered a favorite. Producer David Farland feels that Bruce Willis may be the perfect candidate. "As an actor in the Die Hard franchise, Willis plays a character that is perfectly balanced between being a likeable hero, yet as tough as an anvil. He's been my early favorite."
Other actors and their fan-bases have campaigned hard for the positions, but Willis's votes only number in the hundreds while actresses from as far away as India have votes in the hundreds of thousands.
The author of Runelords, David Farland, campaigned hard for Willis. He sees this as his perfect role. "I think Bruce Willis has been so type-cast that he almost has no chance of being taken seriously for an Oscar anymore. But as King Orden he can show his range and depth of acting."
The part of King Orden requires a mature actor who can be instantly likeable. At the same time, he is locked in a life-or-death struggle to save the world from a far more powerful enemy. He must show himself as cunning and a strategic thinker. He's passionate, yet he's so set upon winning this conflict he's willing to sacrifice his son and his best friend. The actor who plays Orden must make the audience identify with him and understand his sacrifice. "I think Bruce Willis can pull this off," says Farland.
Millions of Runelords fans the world over are anxious to see who will win the parts of these roles. Obviously, Farland is pulling for Willis. Yet, while actresses like Katrina Kaif and Aishwarya Rai have successfully marshaled their fan bases to vote for them for their roles, Bruce Willis and his fans have done almost nothing. Farland asks, "You have to wonder, do his fans even care?"
Letting fans give input on the actors was the producer's idea. "We want the creation of this film to be as transparent as possible. We're not going to give major roles away because some director wants his brother-in-law to fill the spot. In the past, producers haven't had a chance to get input from fans on major film roles, but with the rise of the internet, we feel that there is great value in hearing from the fans. We want our fans to recognize that they have a vested interest in this movie. Nowadays, in Hollywood the major factor in whether a film gets made, or if it gets made well, comes as the audience makes its voice heard. So we're giving the world's fantasy fans a chance to be heard."
There's no shortage of talent in Hollywood. Certainly if Willis's fans won't help him out, other actors will grab after the opportunity to make their career with such a role.
Vote for Bruce Willis at http://www.RunelordsMovie.com and upload his button from the media page to any website to influence others to vote for Bruce Willis as well.
Bruce Willis is well known for his roles in Die Hard, Tears of the Sun and Pulp fiction, among dozens of others. He's recently been in Set Up and Catch .44. Upcoming flims are The Cold Light of Day, Fire with Fire, Lay the Favorite, Moonrise Kingdom, The Expendables 2, G.I> Joe: Retaliation and Looper.
Courtesy of David Farland Enterprises. Producer and writer David Farland has worked in Hollywood green lighting films, as a game designers and has published more than fifty novels, including work on the Star Wars and Mummy franchises as well as the Runelords. His staff can be reached at http://www.davidfarland.com.
###