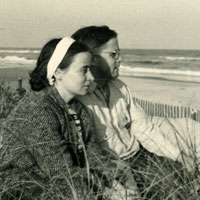 (PRWEB) April 12, 2012
When Bruderhof teacher and poet Jane Tyson Clement died in 2000 at the age of 83, her children and grandchildren discovered hundreds of her poems in private notebooks. The few poems that had travelled beyond her hands during her lifetime were widely admired and drew critical acclaim.
Clement loved the sea and many word pictures in her poems are drawn straight from the natural world: sunsets and surf, breaking ice, budding trees, and wheeling gulls. Metaphors abound – the endless running of the tide a reminder of the endless cycle of life, the weathers of the heart mirroring the weathers of the sky. Still, these are no mere nature poems. In exploring the varied emotions of life – of love, longing and loss; memory, sacrifice, and desire; struggle and frustration, joy and resolve – they reveal the tireless seeking of an honest heart and beckon the reader down new avenues of seeing and hearing.
Many of her poems, short stories and plays have never been published. The Bruderhof publishing house Plough put out a collection of her short stories, The Sparrow, in 1968. It was re-issued in 2000 as The Secret Flower. The first anthology of her poetry, No One Can Stem the Tide, was published in 2000. The Bruderhof Community is now in the process of making all her works available online at http://www.janetysonclement.com