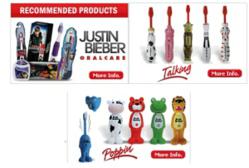 Brush Buddies are very unique and cool products! I especially like the Lady Gaga and Justin Bieber signing toothbrushes! Never seen anything like it before!
Los Angeles, California (PRWEB) December 01, 2012
Brush Buddies are innovative and unique toothbrushes designed to be fun for children. They feature a line of character-based toothbrushes that children love. Brush Buddies also features its singing toothbrushes product line with Justin Bieber and Lady Gaga. Sweepstakes Ninja helps consumers engage with brands such as Brush Buddies through social media, video marketing, blogging, partner websites and forums, and more through their online giveaways. Entrants have the chance to win one of several prizes from the Brush Buddies product line.
Brush Buddies is a leading provider of entertaining and educational oral care products for people of all ages. The Brush Buddies brand includes Singing toothbrushes, Sonic Toothbrushes, Talking Toothbrushes, and Poppin' toothbrushes. Brush Buddies product line features today's popular music artists such as Lady Gaga and Justin Bieber, as well as toothbrush characters designed to teach young brushers proper technique. Brush Buddies has been featured in numerous magazines and publications, such as AdvertisingAge, MMR, DentistryIQ.
Sweepstakes Ninja offers consumers the chance to enter multiple sweepstakes through their innovative online sweepstakes draws (http://sweepstakesninja.com/sweepstakesdraw/draw/brush-buddies-justin-bieber-and-lady-gaga-singing-toothbrushes/). They are daily entry draws, that not only give consumers chances at winning amazing prizes, but also give companies daily branding exposure to consumers. Through the sweepstakes draws, contestants have a chance of winning one of several unique toothbrushes sponsored by Brush Buddies.
The sweepstakes promotion officially runs until January 1st, 2013. To increase their chances of winning, the entrant may share sweepstakes links with friends, family, and through social media. This is a win-win situation for both Brush Buddies and the entrant. Entrants increase their chances of winning award winning products, and more people learn about the Brush Buddies product line.
For more information about how Sweepstakes Ninja promotional marketing services deliver profits for companies, visit Sweepstakes Ninja main website for details.
About SweepstakesNinja.com
SweepstakesNinja.com is the leading provider of fun and interactive sweepstakes. The company matches consumers with companies, in a fun and interactive manner. Consumers have the chance of winning amazing prizes. Companies benefit from daily exposure to their brands, word of mouth advertising, customer loyalty, and long term increases in profit. For more details, visit http://www.sweepstakesninja.com/