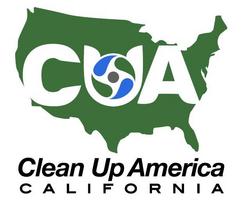 Wilmington, CA (PRWEB) October 22, 2007
This week at the National Parking Association Trade Show in Hollywood, CA, Clean Up America of California (CUACA) will premiere its highly effective and efficient brushless high volume hard surface pressure washing company that saves water and is environmentally safe.
CUACA's Swabby 48 systems will save large amounts of water, and protect our environment, harbors, and beaches at the same time. CUACA is the alternative to the constant surreptitious washing activity and dumping of contaminated water into our U.S. Waterways and Storm Drain systems that environmentally impacts our harbors, ports and beaches, and wastes MILLIONS of gallons of water.
The patented Swabby 48 system washes a path of 48 inches at a rate of up to 10,000 square feet PER HOUR. The automated Swabby 48 system has four water nozzles rotating on an independent belt-driven system. The nozzles fire up to 4,000 Pounds per Square Inch (PSI) and heat water up to 180 degrees Fahrenheit, then our extraction system vacuums the contaminated water with a dedicated 38 horse-powered system. Water pressure and temperature are adjustable 1,000 to 4,000 PSI and ambient to 180 degrees Fahrenheit, respectively. Because the Swabby 48's nozzles operate with high pressure at a high temperature - they actually use less water on more surface area than a standard garden hose. The Swabby 48 system reclaims & recycles 80% of contaminated water (20% is lost to evaporation) during washing operations, and prevents ALL pollution from entering U.S. Waterways and Storm Drain systems in the Southwestern U.S. where water is a scarce resource and environmental protection enforcement is a high priority among local and federal governments. With the ability to reclaim and recycle water, the Swabby 48s can remain on a work-site for longer periods without having to refill for fresh water, which also results in less fuel usage and labor. The Swabby 48s get in and get out fast so that less water is used and your facility can resume routine operations immediately.
The Swabby 48 system evolved from late CUA systems that pressure washed the decks of military aircraft carriers since 1992. When the military required the pressure washing of their aircraft carrier decks to be fully U.S. Environmental Protection Agency (EPA) compliant and further preserve precious onboard fresh water storage, it tasked CUA to develop the Swabby 48. Now you can have military technology pressure wash your high volume surfaces.
CONTACT:
info@cuacalifornia.com
877-CUA-WEST
Clean Up America of California
824 E. Anaheim St, Suite B
Wilmington, CA 90744-6833
###