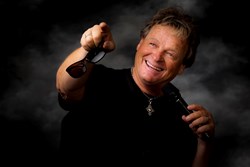 People can hear Duncan's latest album, Conversations, and the stories behind the songs free at SoGoodForTheSoul.com.
Auburn, AL (PRWEB) August 21, 2013
Music legend Bryan Duncan will join Si and Alan Robertson of Duck Dynasty for Youth First's Characters Of Character event at Auburn Arena on Saturday, August 24, at 7:00 pm. Duncan will perform two songs at 7:30 pm followed by a full concert at 9:00 pm.
"This is the first of what we hope will be an annual event," said Kevin Flannagan, the event's promoter. "The purpose is to bring clean, fun, popular people to town who represent the kind of things that parents want represented for our children and college students. Everybody on the stage that night will be people parents want their kids to look up to."
Bryan Duncan has released 14 solo albums, three with the NehoSoul Band and seven with the Sweet Comfort Band. He has sold in excess of 1.2 million records and videos. He's had 16 No. 1 radio hits.
Duncan was inducted into the Christian Music Hall of Fame along with Amy Grant and Al Green. His recordings have been celebrated with four Dove Awards and one Grammy Award.
People can hear Duncan's latest album, Conversations, and the stories behind the songs free at SoGoodForTheSoul.com.
Duncan released a live performance video of his song I See You and is on a national I See You concert tour.
I See You is a grateful acknowledgement of God's presence and participation in our lives.
"My wife does this thing throughout the day," says Bryan Duncan. "She'll be working at something and out of the blue she'll just stop, point to the sky and say 'I see you!' I had to smile because it is such a great example of being in the moment with God. I don't see that kind of acknowledgement of God very often. It seemed like the perfect idea for a song."
The I See You tour offers churches and charities the resources, volunteers and funding to reach new people and impact their communities. Even groups with limited experience organizing events can produce them effectively with support from Children In Need Inc.
Producing a concert on the I See You Tour or the Joy To The World Christmas tour is easy, even for groups with limited experience. The tours provide volunteers, training, advertising and marketing tools and social media support. Children In Need Inc. will even help host churches and charities finance their concerts through crowdfunding.
Crowdfunding is a convergence of technology, social media, fundraising and patronage that provides billions of dollars in backing to hundreds of thousands of projects. In addition to providing financial support, crowdfunding projects provide valuable information about public interests, facilitate deep relationships with backers and act as self-funded marketing campaigns for the events, services, products and campaigns they fund.
Duck Dynasty follows the Robertson family as they operate the Duck Commander Company in West Monroe, La. The Robertson family made waves in the media for choosing to incorporate prayer and their relationship with God into their show.
Call 334-501-5637 for event tickets.