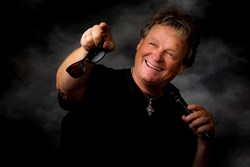 People can hear Duncan's latest album, Conversations, and the stories behind the songs free at SoGoodForTheSoul.com.
Long Beach, CA (PRWEB) September 16, 2013
Music legend Bryan Duncan will sing at the 31st Annual Long Beach Leadership Prayer Breakfast Thursday, September 19 at 7:00 am at the Hyatt Regency Hotel in Long Beach, California.
Duncan has released 14 solo albums, three with the NehoSoul Band and seven with the Sweet Comfort Band. He has sold in excess of 1.2 million records. He's had 16 No. 1 radio hits.
Duncan was inducted into the Christian Music Hall of Fame along with Amy Grant and Al Green. His recordings have been celebrated with four Dove Awards and one Grammy Award.
People can hear Duncan's latest album, Conversations, and the stories behind the songs free at SoGoodForTheSoul.com.
Duncan released an "unplugged" live performance video of his song I See You and is on a national I See You concert tour.
I See You is a grateful acknowledgement of God's presence and participation in our lives.
"My wife does this thing throughout the day," says Bryan Duncan. "She'll be working at something and out of the blue she'll just stop, point to the sky and say 'I see you!' I had to smile because it is such a great example of being in the moment with God. I don't see that kind of acknowledgement of God very often. It seemed like the perfect idea for a song."
The I See You tour offers churches and charities the resources, volunteers and funding to reach new people and impact their communities. Even groups with limited experience organizing events can produce them effectively with support from Children In Need Inc.
Producing a concert on the I See You Tour or the Joy To The World Christmas tour is easy, even for groups with limited experience. The tours provide volunteers, training, advertising and marketing tools and social media support. Children In Need Inc. will even help host churches and charities finance their concerts through crowdfunding.
Crowdfunding is a convergence of technology, social media, fundraising and patronage that provides billions of dollars in backing to hundreds of thousands of projects. In addition to providing financial support, crowdfunding projects provide valuable information about public interests, facilitate deep relationships with backers and act as self-funded marketing campaigns for the events, services, products and campaigns they fund.
Duncan uses social media and crowdfunding to fuel a new business model that allows him to connect directly with his audience, bypassing traditional record labels. Duncan has the creative freedom of an independent artist but is still able to compete with the big record companies for radio airplay and media coverage.
The Greater Long Beach Leadership Prayer Breakfast is an event that offers prayer for, and inspiration to, elected officials and individuals who serve the community and the country. This annual event is patterned after the National Prayer Breakfast, and while celebrating a Judeo-Christian heritage, it is open to all.
The event is presented by the Long Beach Rescue Mission. Comprised of two facilities and a thrift store serving men, women and children, the Long Beach Rescue Mission is dedicated to helping individuals overcome the homeless cycle. Since 1972 they have achieved long term goals and continue to make a world of difference in today's society.
Tickets for and information about the Greater Long Beach Leadership Prayer Breakfast are available at LBPrayer.com.