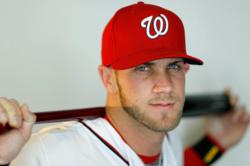 Los Angeles, CA (PRWEB) May 02, 2012
On April 27, Washington Nationals outfielder Bryce Harper got the news every AAA player is works so hard for. Harper was called up to the Nationals as Ryan Zimmerman was placed on the DL. This 19 year old phenomenon took the field and made his season debut against the Los Angeles Dodgers. His first major league at bat was over uneventful with a ground out, but it did come with a roaring lead up from Dodgers announcer Vin Scully, who lets fans at home know the amazing story of Bryce Harper. He went on to record his first Major League hit with a double and got his first RBI on a sacrifice fly in the top of the ninth.
Bryce Harper, the first overall pick in the 2010 Major League Baseball Draft, took to the baseball field at a very early age. In fact, at the age of 12 he began playing between 80 to 130 games a year. Since that time it became evident that baseball became his number one focus after he went on to get his GED after his sophomore year of high school in December 2009. This move made him eligible for the June 2010 amateur draft along with making a first step in beginning his professional baseball career.
Harper went on to enroll at the College of Southern Nevada. Harper proved himself early with 31 home runs which broke the school's previous record of 12. He went on to be named the 2010 SWAC Player of the Year along with earning the 2010 Golden Spikes Award, awarded annually to the best amateur baseball player.
Coming into the 2012 MLB season Harper was ranked as a top #3 prospect by baseball prospect-watchers, including Baseball America, MLB.com, and Baseball Prospectus. This caught the attention of some major companies and brought on many endorsement opportunities. The company to strike first was Under Armour as they quickly signed Harper to the growing list of baseball players on their roster. In will not be much longer before companies starting signing this young all-star. Car manufacturers, sports drinks and sunglass companies will all soon be making a play to associate Bryce Harper with their brand.
Written by: Anthony Fernandez
About AthletePromotions.com
AthletePromotions is a sports marketing firm and athlete booking agency securing thousands of athletes for speaking engagements, corporate appearances, product endorsements, autograph signings, spokesperson campaigns, celebrity golf tournaments, VIP Meet & Greets and more.
Ryan Totka and his team AthletePromotions can assist corporations in booking Bryce Harper and other baseball players for speaking engagements, corporate appearances and VIP Meet & Greets